Maroon Out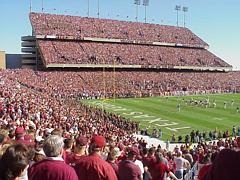 Becoming one of Texas A&M's newest traditions, the 1998 Maroon Out led to a temporary national shortage of maroon t-shirts. 31,000 Maroon Out shirts were sold at low cost to ensure that tens of thousands of Aggies attending the Texas A&M vs. Nebraska football game would create a sea of maroon spirit throughout the stands.
Even the Nebraska fans acknowledged after the game that the intensity of the Maroon Out spirit made a difference in the game leading to A&M's 28-21 victory. As The Daily Nebraskan expressed it on October 12, 1998:
"A game that was dubbed a 'maroon-out' for Texas A&M fans proved to be a lights out for Nebraska. The fans dressed themselves in maroon T-shirts in an attempt to wash out the red and white that opponents have gotten used to. It worked."
Each year one football game is specially designated for Maroon Out. In the first five years of the Maroon Out tradition, the Fightin' Texas Aggies overcame all five opponents including four teams that were higher ranked and in the national top 10 at the time.