Organizing for the next sixty years...Join us as the energy within the wave continues to build and we navigate the tides of unceasing success.  The Sea Aggie Former Student Network is an Officially Chartered Constituent Network of The Association of Former Students of Texas A&M University. Be sure to visit www.AggieNetwork.com to update your contact information and join our Aggie email listserv!
Join us & keep up with the 'current' at SeaAggieFormerStudentNetwork.com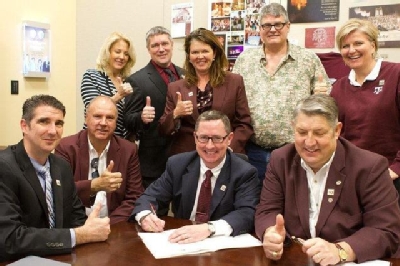 Howdy and welcome home Aggie by the Sea! The TAMUG Former Student site is designed to help you keep in touch with former classmates and Aggies across the miles and generations. Catch up on campus events and follow Texas A&M University at Galveston on Facebook, Twitter, YouTube, Instagram, and LinkedIn.
Drop by The Association of Former Students and visit with the entire Aggie family. Take advantage of the Aggie Network, search for fellow Aggies, check out Association News and more.
Interested in leaving your mark at TAMUG or contributing to future Aggies by the Sea? We have numerous endowment funds and scholarship opportunities. Learn more at Giving to TAMUG or purchase your own brick to be included in the Sea Aggie Walkway.