Captain Allan Post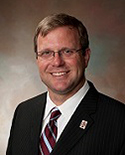 Acting Deputy Superintendent, Texas A&M Maritime Academy,
Executive Director of Marine Education Support and Safety Operations,
Texas A&M University at Galveston
posta@tamug.edu
(409) 740-4477
Captain Allan Post has been with Texas A&M University at Galveston for since 2009 as Executive Director of Marine Education Support and Safety Operations.
Capt. Post is a 1997 graduate of the State University of New York Maritime College with Bachelor of Science degrees in Meteorology and Oceanography with concentrations in marine forecasting and weather routing for ships at sea. He holds numerous maritime licenses including a Master 1600 ton inland and Great Lakes motor or steam vessels license, a Master (Non-Navigating) Passenger Carrying Barges license, GMDSS operator/maintainer license and a Third Mate motor or steam vessels unlimited tonnage upon any ocean or sea licenses. He is a recent graduate of the Governor's Executive Development Program class 2013 with the Lyndon Johnson School of Public Affairs at the University of Texas at Austin.
Capt. Post's certifications include Advanced Fire Fighting, Bulk Cargo Storage, Hazmat Handling and Storage, Inert Gas and Crude Oil Wash, First Aid and CPR with AED. He is an instructor for Texas Parks and Wildlife Safe Boating. Capt. Post is also a National Weather Service Skywarn weather spotter and FEMA Incident Command System Certified.
Capt. Post joins TAMUG from Star Fleet Entertainment Yachts in Kemah, Texas where he served as the Director of Operations and Development/ Port Captain. At Star Fleet he was in charge of a fast paced daily operations of charter boat and dinner cruise company which generated upward of $3 million a year in revenue. One of his proudest accomplishments at Star Fleet was leading the mitigation of the Star Fleet facilities prior to Hurricane Ike. Capt. Post contracted naval architects to design and install a hurricane mitigation system for the marina and company – a system that worked as designed with no operational loss during Hurricane Ike.
At TAMUG, Capt. Post is responsible for the daily management of waterfront operations including all research, training/teaching, recreational, outreach vessels and non-TAMUG vessels moored in the TAMUG Small Boat Basin and the Texas Clipper dock facility; vessel scheduling; booking and invoicing of boat trips. His latest role is that of Campus Emergency Response Coordinator and Director of Environmental Health & Safety. In that role he is responsible for the planning and practicing of campus wide emergency response as well as acting as the Incident Commander for campus emergencies.
Capt. Post is a 2016 graduate of TAMUG in the Master's program for Maritime Administration and Logistics. Capt. Post is a direct report to the TAMUG Chief Operations Officer.