Major General Charles "Bill" McClain, USA (Ret.)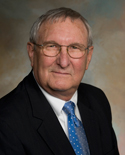 External Relations Officer,
Texas A&M University at Galveston
mcclainb@tamug.edu
(409) 740-4402
A native Texan, Bill McClain serves as the External Relations Officer for the Texas A&M University at Galveston.  His focus is on coordination with local and state organizations to attain objectives of TAMUG's leadership. Prior to joining TAMUG, he was the chief of staff to the president at the UT Health Science Center in Houston for five years.  Bill served more than 33 years in the US Army following graduation from Texas A&M in 1962.  He held the senior US Army and NATO public affairs positions in Europe with extensive service in Washington and had been the US Army Chief of Public Affairs for more than five years upon his retirement as a major general in 1995.  Since active military retirement, Bill served in a variety of private and public sector positions including the vice president for operations for an international management consulting firm and chief of staff to the county judge of Bexar County in addition to his service at UT Health.  

Bill has a Bachelor of Arts degree in English from A&M and a Masters of Arts degree in Management and Supervision from Central Michigan University in addition to graduate studies in history at the University of Virginia.  He is a graduate of the Army Command and General Staff College and the Army War College. In 2003, he was inducted into the US Army Public Affairs Hall of Fame. Among his affiliations are the Public Relations Society of America, Texas A&M Former Students Association, Texas A&M Corps of Cadets Association, Life Member of the 101st Airborne Division Association, Life Member of the Association of the US Army and the Army Public Affairs Alumni Association.

He and his wife, Alexis, maintain a residence in The Woodlands.