Professor Spotlight: Dr. Philip Matich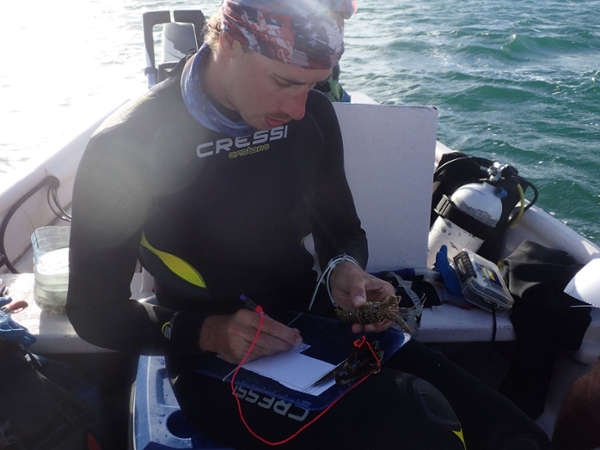 Dr. Philip Matich is a new addition to the Marine Biology Department at Texas A&M Galveston.
Where did you attend college? And what did you major in?
I did my B.S. in Marine Science at the University of South Carolina. Then, I obtained a Ph.D. in Biology at Florida International University, where I worked to determine bull shark trophic ecology and habitat use.
Where did you previously work?
I previously worked at the Waitt Institute in San Diego where we worked toward developing science-based solutions for sustainable ocean management and small nation islands. After that, I did a postdoctoral fellowship at Texas Research Institute for Environmental Studies in Sam Houston State University where I studied the roles of both bull sharks and gars in their support of food webs as well as their adaptability to biological changes and stressors.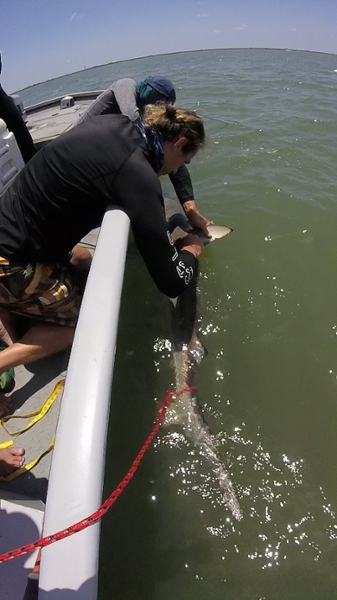 Dr. Philip Matich conducting research in sharks
What is your current association with Texas A&M University at Galveston?
At TAMUG, I hold the position of Instructional Professor, teaching Biology 112 (Introductory Biology II) and MARB 445 (Marine Fisheries Management). I believe my extensive knowledge in Fishery Science will aid me in teaching and engaging with my students in both classes.
What do you like about teaching?
Being a teacher allows me to present skills and knowledge to my students that they will use in the real world. Through a hands on approach to learning, I am able to engage with my students and provide them with opportunities both in the classroom and in the field.
Are you also working on research?
Currently, I do some research with Dr. Wells in the life history, habitat use, movement, and feeding ecology of coastal sharks and large non-game fish species. I believe this research effort will allow me, as a professor, to provide my students and other scientists with a better understanding of their complex life histories.
Dr. Philip Matich conducting research in gars.
What advice do you have for students, especially those who are interested in pursuing research?
I would like to advise any student interested in pursuing research to, "find what you are passionate about and talk to people with similar interests, but be conscious of opportunities because you might discover a passion you were not once aware of, so try and explore as many things you can."