French business delegation visits TAMUG    
Business France is a national agency supporting the international development of the French economy. They are responsible for fostering export growth by French businesses, as well as promoting and facilitating international investment in France. In efforts to promote and expand French companies, business images, and nationwide attractiveness, Business France established a delegation on a partnership mission to North America. One of their partnership locations was Texas A&M University at Galveston.
On Thursday, October 4th, 2018, Texas A&M University at Galveston (TAMUG) welcomed a group of French delegates on a tour to learn about the campus. The French delegation consisted of members from many innovative French companies including: Pol Mer, Grand Port Maritime de Nantes, Marseille Gyptis International (MGI), Merl Consulting, Seaviews, SINAY, and System Factory. During their time at TAMUG, they heard from many speakers such as:
Joan Mileski, Professor and Department Head of Marine Administration (research on maritime cyber security, port efficiency, and port resilience);

Ana Sirovic, Associate Professor in the Marine Biology Department (research on underwater acoustics);

Karl Kaiser, Assistant Professor in the Marine Science Department (research on pollution bioindicators);

Timothy Dellapenna, Associate Professor in the Marine Science Department (research on mapping of the ocean floor).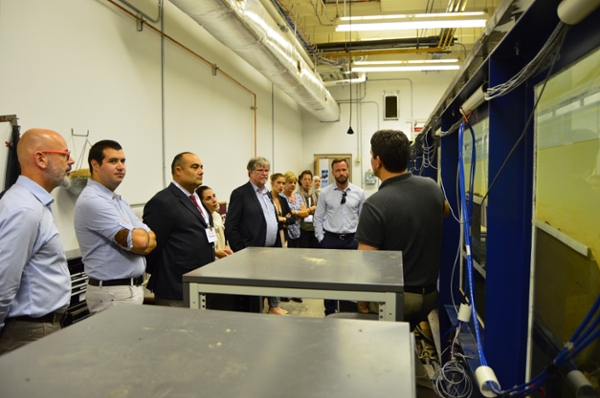 French delegation visiting TAMUG laboratories.
Also, the French delegation had the opportunity to visit the Maritime Transportation Department's state of the art bridge simulator, and the Ocean Engineering Department's Wave Flume and Machine Shop. 
In the future, Texas A&M University at Galveston looks forward to seeing prospective affiliations among the French delegates with possible foreign business enterprises, international research teams, and development of technological partnerships with companies and research centers of foreign clusters. International experiences such as this meeting allows Texas A&M University at Galveston to bridge the gap between foreign collaboration and provide potential opportunities to both faculty and students.