Current Students
There are numerous opportunities in a unique and growing department with relevant coursework taught by experienced research faculty and professional mariners.
Love What You Do
Along with the career planning assistance found through the Career Services Office on campus, the Department of Marine Engineering Technology has faculty with relationships within the industry which puts students in a great position to make a seamless transition from student to professional. Whether it's a summer internship or the first full-time position after graduation, the department is equipped and eager to assist its students in achieving their goals.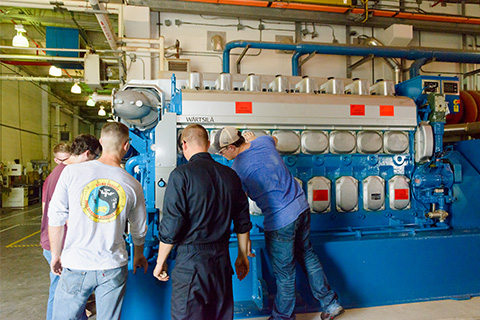 The Marine Engineering Technology Department offers the following specialized scholarships:
American Bureau of Shipping Engineering Scholarship
American Bureau of Shipping Senior Award
Carl H. Haglund and Michael E. Resner Scholarship
Joseph B. Morreale Memorial Scholarship
Marine Technology Society Dynamic Positioning Scholarship
Marine Technology Society Houston Section Endowed Scholarship
Marine Technology Society Houston Section Scholarship
SEACOR Marine, LLC Scholarship
W. Hollis Fitch Opportunity Scholarship
There are numerous general scholarships available for students entering college, continuing their education, or transferring from the community college system. While some scholarships have qualifying criteria, most are open to all applicants. Veterans are encouraged to review the benefits available to them at the Veterans Services Office. Texas A&M University at Galveston also has scholarships and assistantships available for graduate students.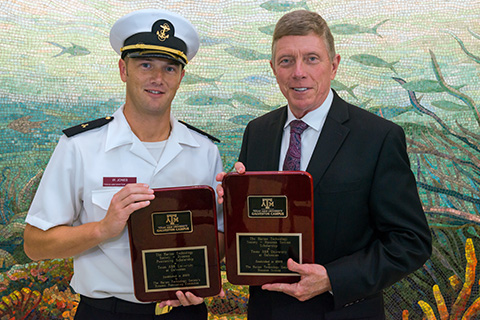 Travel the World
Because TAMUG is a part of the greater Texas A&M Network, there are varied study abroad opportunities. Texas A&M has one of the largest study abroad programs in the country, and students are encouraged to take advantage of these opportunities. International study is one of the most exhilarating and rewarding experiences available in university life.
Students experience new cultures, learn from a different perspective, and meet life-long friends in these life-changing courses.