Family Weekend 2023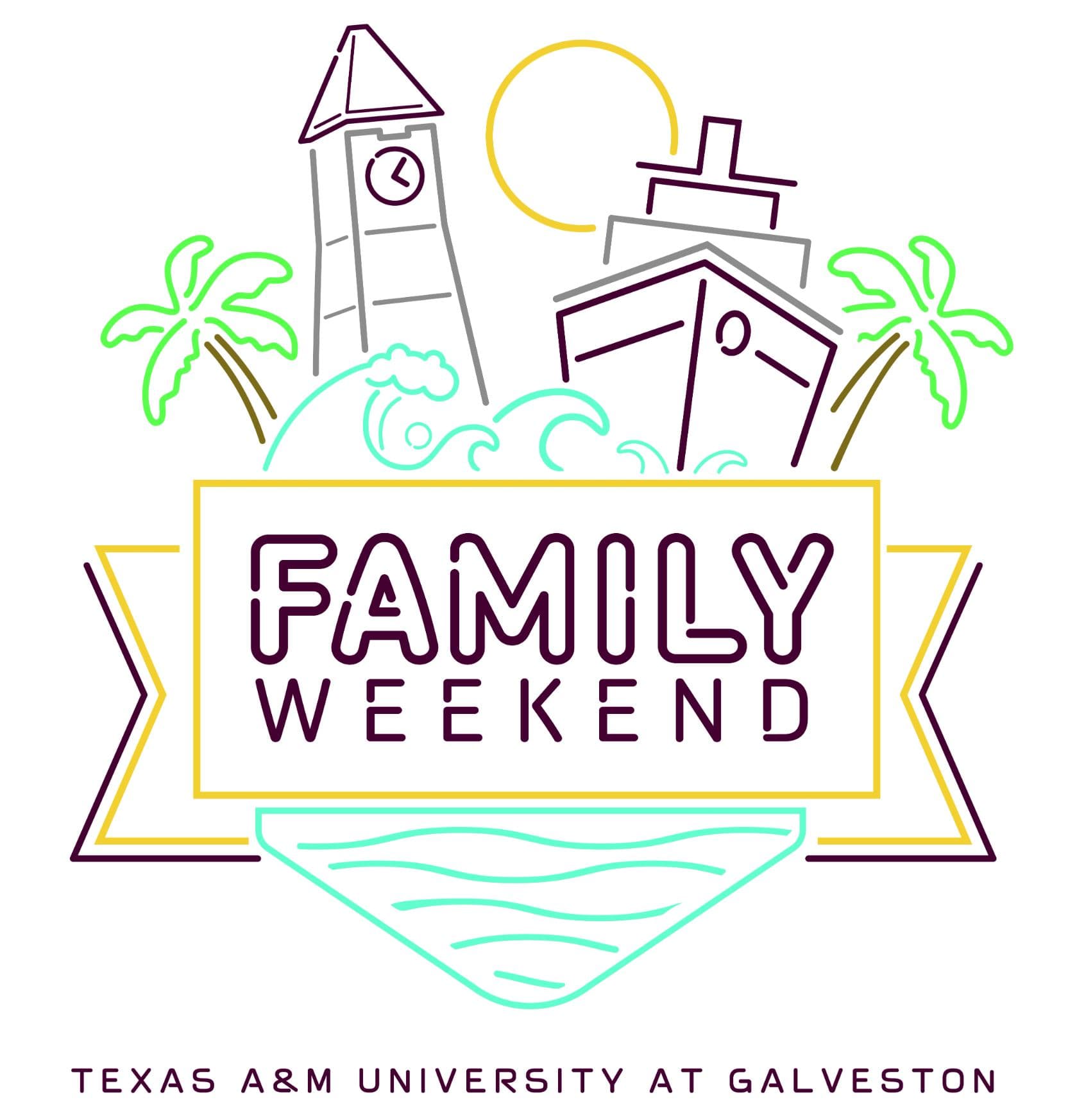 SAVE THE DATE!

Family Weekend 2023:
October 13-14
Family Weekend 2022 Schedule    
Friday:
3:00 PM: Check-In, ASEC Lobby
3:00 PM-5:00pm: Ship Simulator Tours (Bldg 3002)
3:30 PM-5:00 PM: Sea Life Facility Tours (Run every 15 Minutes, wear closed-toed shoes)
5:00 PM: Corps Sunset Parade and Yell Practice, ASEC Courtyard
5:30 PM: Harbor Tour, Small Boat Basin (Tour departs at 5:30pm).
5:30 PM: Parents Social Mixer, ASEC Lobby (Food provided)
7:00 PM: Texas A&M Singing Cadets Performance (Hosted by the Galveston County Aggie Moms Club)
Saturday:
8:00am-10:30am: Saturday Guest Check-In- ASEC Lobby
9:00am-2:00pm: Tours of General Rudder (Wear Closed-Toed Shoes)
10:30am-12:30pm: Brunch- ASEC Ballroom
12:00pm: Welcome Remarks
12:00pm: Harbor Tours (Arrive at the Small Boat Basin at 11:45am, 12:45pm, 1:45pm, or 2:45pm. Wear Closed-Toed Shoes)
12:00pm: Sea Life Facility Tours (Every 15 Minutes, Wear Closed-Toed Shoes)
12:30pm: Campus Presentations
Texas A&M Maritime Academy Discussion (ASEC Ballroom)
Presentation on Sea Life Facility (12:30pm MAIN 114)
The Science Influencer: Building a New Generation of Coastal Leadership (MAIN 117)
1:00pm: TAMUG Women's Soccer vs. UH-Downtown(TAMUG Intramural Field)
3:00pm: TAMUG Men's Soccer vs. Nicholls State (TAMUG Intramural Field)
6:00: TAMU vs. Alabama Football Watch Party @ Beach Central (Food Provided)
Yell Practice with TAMUG Yell Leaders
Sea Aggie Band Performance
Drill Team Performance
Football Game Kicks Off @ 7pm
Texas A&M Singing Cadets & Women's Choir/Hosted by the Galveston County Aggie Moms Club    
This event is not included in the price of Family Weekend registration, all proceeds benefit the Galveston County Aggie Moms Club. Doors open for this event at 6:30pm in ASEC on October 7th.
The Galveston County Aggie Mothers Club is excited to host the famous Texas A&M University Singing Cadets and Texas A&M University Women's Chorus Internationally known as the "Voice of Aggieland", The Grammy Award Winning Singing Cadets are Texas A&M University's premier men's chorus. They are one of the oldest collegiate singing organizations in the world and one of the most treasured Aggie traditions.

Besides traveling throughout the state of Texas performing an average of 65 concerts per year, the Singing Cadets have also spread the Spirit of Aggieland around the globe. The group has toured to Romania, Mexico, Germany, England, Switzerland, Hungary, Australia, Argentina, Uruguay, Brazil, Wale, Scotland, South Africa and China.
The Singing Cadets have performed for every living president as well as other distinguished individuals such as Mikhail Gorbachev and many foreign dignitaries. They have held concerts in places such as Carnegie Hall, the Kennedy Center, and Saint Paul's Cathedral.

The Texas A&M University Women's Chorus was founded in 1979 by Patricia P. Fleitas. Its members consist of approximately fifty talented young women who are dedicated to choral excellence and possess a true passion for music. These women take pride in themselves and their organization as they represent Texas A&M University across Texas, the nation, and abroad.

The Texas A&M Women's Chorus is so much more than just a way to share music for its members. They are a group built on fostering not only musical excellence but also leadership and sisterhood. They have their own traditions that make them a fun and unique group on campus. They hold numerous social events to encourage ladies to get to know one another, and because of this social aspect many girls create lifelong friendships and have an even better musical experience.