Reduce the Juice
From: Brad McGonagle
Sent: Wednesday, February 08, 2006 12:45 PM
To: aggnews
Subject: Reduce The Juice Webpage & Updates
Past Successes
Thanks to everyone's efforts through the Reduce the Juice campaign, we are beginning to experience some successes.  While our overall utility costs have increased this year due to an increase in utility rates, TAMUG has reduced campus electricity usage by 10.75% over the same period in Fiscal Year '05 (Sept., Oct. and Nov.).  In addition to this success, the Physical Plant completed the installation of four energy efficient boilers which will contribute greatly to the reduction in energy consumption throughout the remainder of the fiscal year. 
Future Successes
Your continued assistance in turning off lights when existing classrooms, labs and offices will contribute greatly to the success of the Reduce The Juice program.   You can now review the Campus Energy Reduction Webpage, called " Reduce the Juice! " located on Mnet to see the campus electricity usage reports.   
Even though our reduction efforts have resulted in these noted successes, we are still faced with a budget deficit in fiscal year 06 due to higher utility rates and must continue to work towards reducing energy consumption as much as possible. Thank you and remember to Reduce the Juice!
Building  

Utility
Type

2005   

2006   

Decrease

Fort Crocket Campus        
3311/3311A Fort Crockett
Electric (KWH)
511,680 KWH
510,720 KWH
0.19%
Mitchell Campus        
3026 Sea Aggie Center 
Lighting-Mitchell Campus 
Mitchell Campus 

Electric (KWH)
Electric (KWH)
Electric (KWH)

412,560 KWH 
16,812 KWH
3,070,801 KWH
393,840 KWH
13,938 KWH
2,764,185 KWH
4.54%
17.09%
9.98%
54 Adler        
3312 Administrative Home
Electric (KWH)
9,200 KWH
8,860 KWH
3.70%
Teichman Campus        
3316 Sail Center
Electric (KWH)
1,192 KWH
846 KWH
29.03%
 
Average Decrease in Electricity Usage     10.75%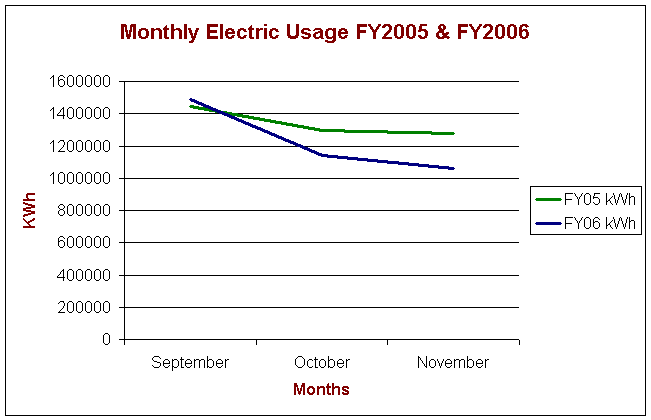 W. Brad McGonagle, Ph.D.
Assistant Vice President for Administration
Texas A&M University at Galveston
(409) 740-4502
mcgonagw@tamug.edu