R/V Trident Keel Laying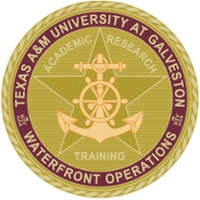 June 10, 2014
 GEO Shipyard, New Iberia, Louisiana
A keel laying ceremony is an important tradition for any vessel, but today's ceremony is a special milestone for Texas A&M University at Galveston as it is the first significant new build that Texas A&M has undertaken in 40 years.
It is an ancient mariner tradition that every ship constructed for service be honored on four historical ceremonial occasions; the keel laying, its christening (or launching), the commissioning and the decommissioning.
Today's ceremony, the keel laying for the R/V Trident, marks the official construction phase of the vessel.
The ceremony has traditionally invited good luck in the construction process of the ship and continued good luck throughout the life of the vessel.
In keeping with the ancient traditions, commemorative coins will be placed into the area of the keel as an offering of good fortune for the vessel.
I would like to specifically acknowledge the skilled and hard work of the team here at GEO shipyard.  Their expert craftsmanship and dedication to detail is already evident in the progress that has been made.  With the good luck of the coins we also wish the team at GEO a safe build. 
I would like to thank everyone involved with this project for the hard work, skill and dedication to make the R/V Trident a workhorse for the on-the-water academic, research and training missions of Texas A&M University at Galveston.   
Capt. Allan F. Post 
Executive Director of Waterfront Operations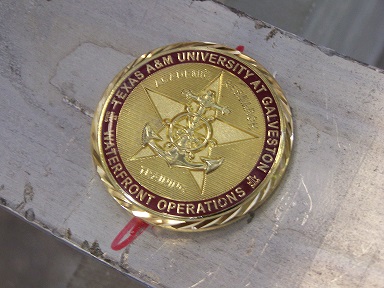 Coin placed in each hull of the R/V Trident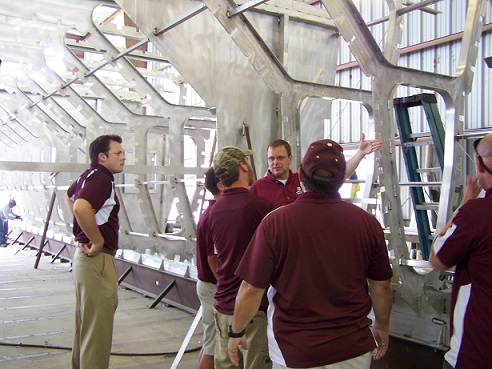 R/V Trident Framing Inspection June 2014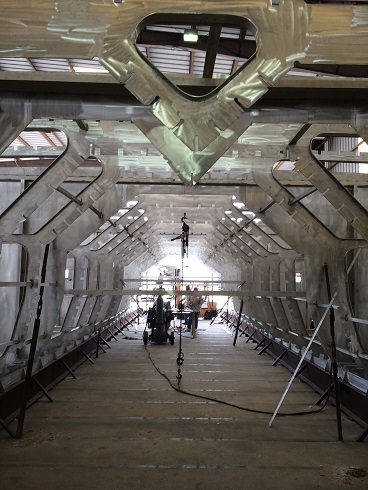 R/V Trident Between the Hulls