James Hiroms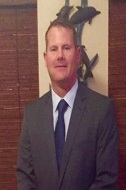 Captain James E. Hiroms Jr. hails from Corpus Christi, Texas and was raised on the waters of Laguna Madre; James joined the United States Coast Guard in 1994 with the desire to learn navigation and ship handling. He started his service assigned to U.S. Coast Guard Station Barnegat Light, NJ. from June of 1994 to June 1998; he certified as Boat Crewmember, Law Enforcement Boarding Officer, Coxswain (certified boat driver) and earned the rate of Boatswain's Mate.
He then transferred to U.S. Coast Guard Station South Padre Island, Texas (June 1998 to January 2001). While assigned to Station S.P.I. he served as the lead Coxswain and Boarding Officer. During this time he attended Customs Fast Boat School at F.L.E.T.C (Federal Law Enforcement Center) in Brunswick GA. and advanced to Boatswain's Mate Second Class.
Upon advancement he received orders to commission the U.S. Coast Guard Cutter Manowar (Plank owner) homeported in Galveston, Texas (January 2001-June 2002). While assigned he served as the 1st Lieutenant, Navigator, Boarding Officer and Coxswain.  Aboard, he attended Advance Firefighting and Advanced Damage Control School.
 In June of 2002 he received orders to U.S. Coast Guard Station Freeport, Texas (June 2002-July 2006). His primary duty was to lead the stations training program. While assigned he became a Tactical Coxswain to assist in the protection of the local chemical plants and to enforce security zones.
In July of 2006 he reported to U.S. Coast Guard Station Galveston, Texas as a Boatswains Mate 1st class (July 2006- January 10). As the units' Training/Operations Officer, he assisted in the qualification/certification of 20 U.S. Coast Guard coxswains and 40 crewmembers. 
In January of 2010, he advanced to Chief Boatswain's Mate and received orders to the U.S. Coast Guard Cutter Bear homeport Portsmouth, VA. (January 2010 – April 2013). While, aboard he attended Pursuit Boat Driver School in Camp Lejeune, North Carolina.  James served on the Damage Control Assessment Team and as a Damage control leader for ships emergencies.
His greatest accomplishments in the U.S. Coast Guard would include a $58 million drug seizure off the coast of Honduras (4,888 lbs. cocaine) while assigned on the USCGC Bear and as a Coxswain at Station S.P.I. he saved the lives of a father and son from drowning.
In the fall of 2015 James retired from The U.S. Coast Guard and joined the Texas A&M team with Marine Education Support and Safety Operations.
 James enjoys fishing and bird hunting in his spare time.  He also stays active with the wounded warrior program.