Sea Life Facility    
The Sea Life Facility (SLF) at Texas A&M University Galveston Campus provides an experimental research laboratory infrastructure for TAMUG scientists, graduate and undergraduate students to conduct in vivo studies of marine life. Through collaborations with the Department of Marine Biology and volunteer opportunities, the SLF enables undergraduate students to receive hands-on training for mariculture systems and practices. The SLF Outreach Center aims to engage the TAMUG community and general public, via educational displays and guided tours, to learn about research conducted in the SLF and marine life in the northwestern Gulf of Mexico.
The 6,000 ft2 facility holds a 40,000 gallon natural seawater recirculating system, two experimental control rooms, and a physiology and hydrodynamics visualization room.
In The Spotlight    
Started in Fall 2015, the Aquatic Animal Life Support Operators (AALSO) organization's Educational Outreach Program has partnered with the MARB 423 Mariculture course to provide students the opportunity to learn more about life support system operations in aquarium, zoo, aquaculture and research settings. As part of the program, one of the top operators in the field visits TAMUG providing a guest lecture, all students receive a free one year AALSO membership, and, at the end of the course, students have the opportunity to test for the Level 1 Life Support Operator Certificate. The top two scoring students also receive full sponsorships to attend the annual AALSO symposium held the following spring. To date, 74 MARB 423 undergraduate students have earned Level 1 Life Support Operator certifications.
Over Spring Break, four Marine Biology/Marine Fisheries undergraduate students participated in the 2017 AALSO Symposium held in St. Louis, MO. Kathryn Kunz and Lillian Raley received full sponsorships from AALSO to attend the symposium and presented a poster entitled "Small-scale aquaculture: Preparation, maintenance, and breeding of sheepshead minnows (Cyprinodon variegatus) and food organisms", which summarized their laboratory work conducted in the Sea Life Facility from last fall's MARB 423 Mariculture course. Meagan Andrusick and Katie Westmoreland presented a poster entitled "Larval rearing and associated cultures of the sheepshead minnow (Cyprinodon variegatus)" based on their work to optimize culture procedures used by MARB 423 students. In addition to their presentations, they had the opportunity to attend lectures given by aquarium operators, participate in hands-on workshops focused on the maintenance of life support system components (such as centrifugal pumps, plate heat exchangers, protein skimmers, UV sterilizers, etc.) and test for various life support system operator and water quality technician certifications.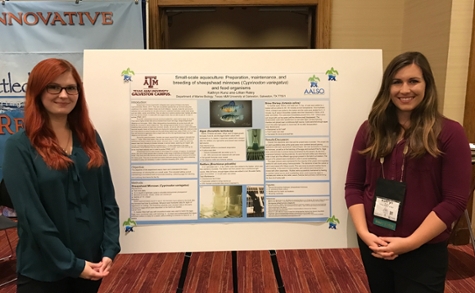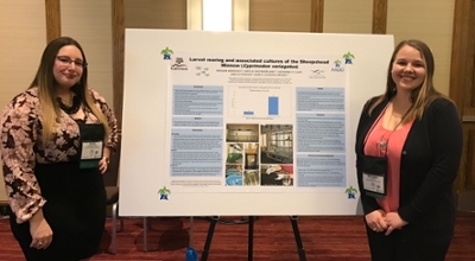 Certifications earned by each student at this year's symposium include:
Meagan Andrusick - Level 1 Water Quality Technician
Kathryn Kunz - Level 2 Life Support Operator
Lillian Raley - Level 1 Water Quality Technician and Level 2 Life Support Operator
Katie Westmoreland - Level 1 Water Quality Technician
To learn more about this program or the AALSO organization, please contact Katie St. Clair at stclairk@tamug.edu.
Support TAMUG's Sea Life Facility    
Purchase T-shirts!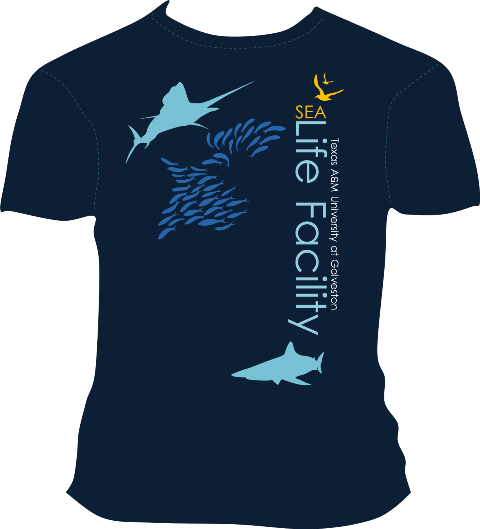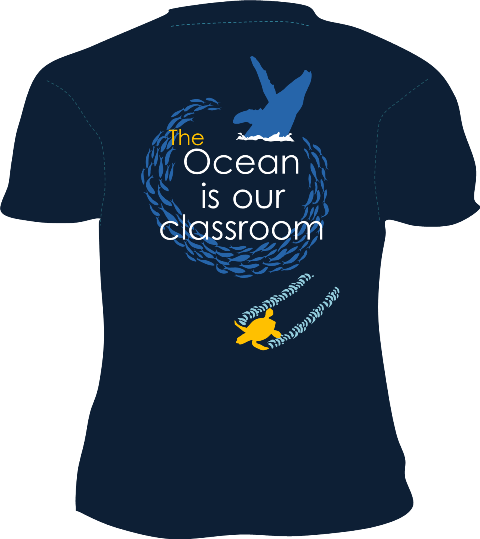 This marine-loving shirt also has the Texas A&M Galveston logo on the left sleeve. Proceeds from the sale of this shirt will go to the Sea Life Facility for the protection and rehabilitation of endangered sea turtles. T-shirts can be purchased by clicking the link below: