TAMUG Lacrosse Team Wins against Incarnate Word!
By Makayla Hillin, '21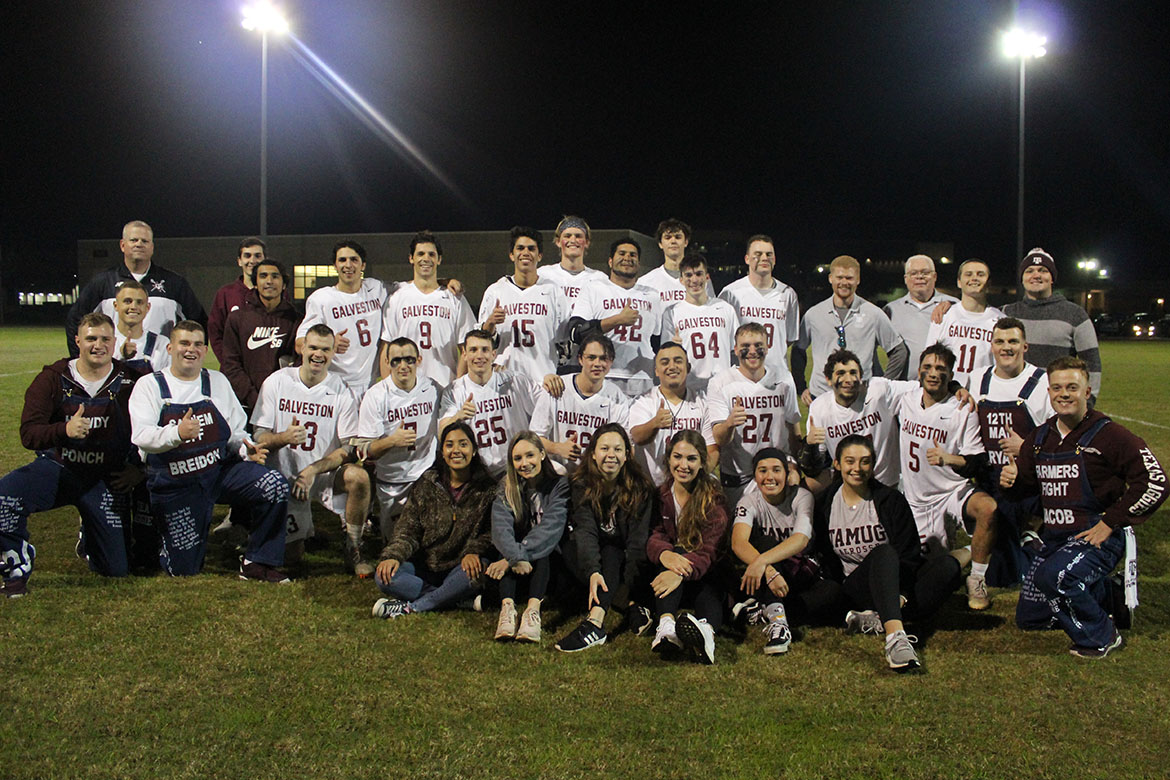 |Photo: Makayla Hillin, Nautilus Staff
Top to bottom, left to right: Nathan Walla, Reagan Walla, Samuel Lopez, Davis Noyes, Oskar Noriega, Connor Chunn, Andrew Crawford, Kurt Terry, Camren Ordaz
Christian Williford, Richard Falloure, Christian Vincinquerra, Sam Venette, Alfonso Mendoza, Adam Syer, Ethan Labbe, Cory Hofmeister
Texas A&M University at Galveston Lacrosse played Incarnate Word on February 7, 2020 and won 17 to 7. It was their first home game of the season.
By passing the ball and communicating on the field, the TAMUG lacrosse team was able to keep the play where they wanted. This allowed them to stay ahead of the opposing team and finish the game with a final score of 17 to 7.
Before the game, different organizations and the parents of some of the players helped host a tailgate with free food and music.
The Sea Aggie Rudder Radio provided music throughout the game. The yell leaders attended and yelled every time TAMUG scored. For the half-time show, the Sea Aggie Band played the war hymn. The yell leaders and fellow aggies in the stands joined the band on the field during their performance.
After the game, the Aggie spirit skyrocketed . The yell leaders made a tunnel for the players to run through and the Rudder Radio played music that they sang loudly to. The smiles on their faces grew as everyone joined in the dancing of the war hymn. They walked away with a 2-0 winning streak.
The game lacrosse was started by Native American Indians, who referred to it as "stickball". Young warriors played lacrosse to toughen them up for war. Back then, the only rule was do not let the ball touch a player's hand. There were no boundaries, no player limit, and the game began once the ball was tossed into the air. Nowadays, there is a circle around the goal, called the goal crease area, where only the goalie can enter. Another change is that only 10 players, from each team, can be on the field. Also, a maximum of four long poles are allowed to be used per team.