Restaurant Review: The Galley
Burgers, Wings, and Pizza! Oh My! But wait! There's more!

By Virginia Limon, '21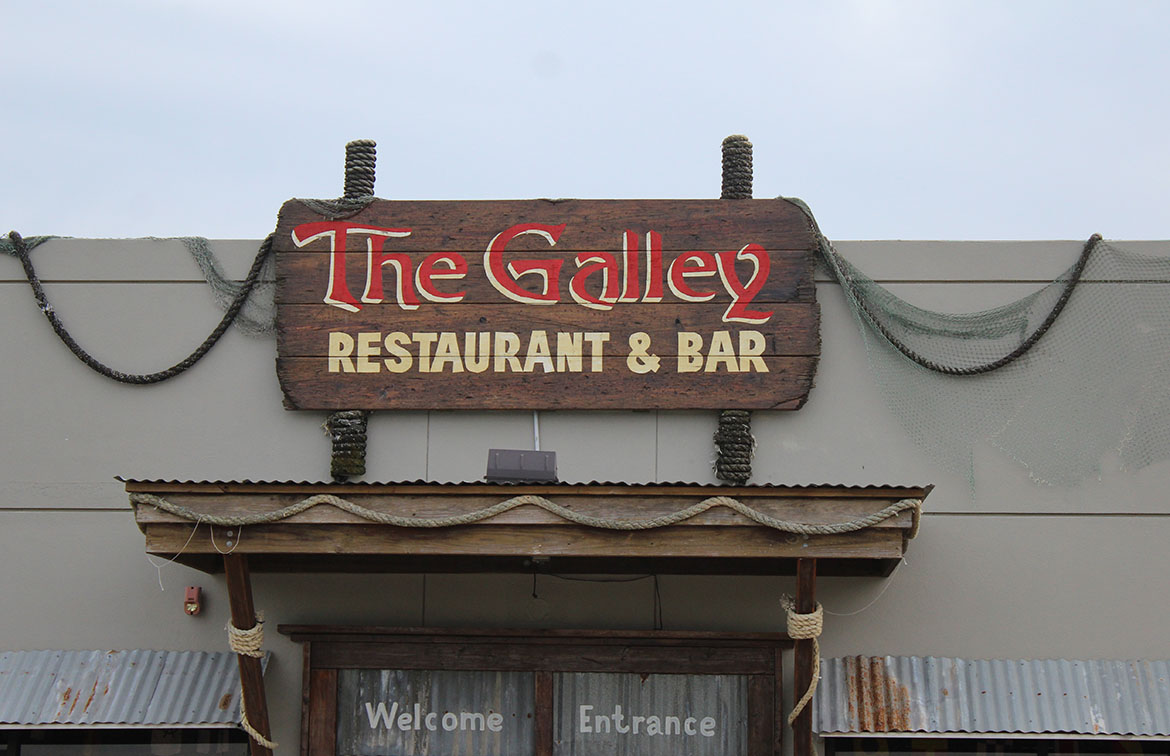 |Photo: Makayla Hillin, Nautilus Staff
The Galley
A friend of mine and I have been on the hunt for good lunch options near campus. Although fast food is cheap, fast, and convenient, we like to find places that are somewhat cost friendly, healthier than fast food, and have a unique Galveston charm. Since my friend lives on the mainland and I go out of town on the weekends, we are not familiar with the island of Galveston and all that it has to offer. About once or twice a month, we try out a new place but there is one who has been our regular lunch spot.
The unique decor that greets you as you approach the entrance hints at the charm of the embellishments inside. The theme inside can be described as a mix of support for their neighboring Aggie students and other sports teams with nautical themed objects scattered throughout.
As you walk in, you are greeted with Raoul's caring and smiling face at the counter and bar in the back next to a female ship figurehead. The wooden table and booth seating mixture are available to the right. Through the wooden rods on the left, the pool tables are visible as you walk further in. If you look just past the pool tables, the quaint little patio decorated with its own unique decor is available to smokers or those who do not mind the occasional smoker stepping out.
Once you take a seat at one of the tables, booths, or seats at the bar, Raoul brings you a simple but ever evolving menu. The menu is currently small but offers a variety of delicious homemade food that is a limited mix of comfort American, Tex-Mex, and bar foods. The menu includes burgers, salads, pizzas, wings, sandwiches, and more.
My safe favorite to order at a new place before I branch out to new foods is the burger. My science mind makes me feel like it gives me a good baseline for comparison when trying restaurants.
The Galley's burgers come on a warm toasted sourdough bun with Angus beef. The burger is flavorful and not overcooked. To those who know burgers, a well done burger is a burned burger. Their burger is not well done but closer to medium or medium-well. I have not asked for a medium-rare burger yet because I trust that the option is not offered for whatever reason.
The fries are battered fries. Not my personal favorite but they are flavorful and seasoned just right. Not too salty and not under salted.
One of their lesser known and recognized meals is not served at the restaurant. In the morning and for lunch, their kitchen produces very delectable breakfast and lunch burritos! They are available at the little convenience store a few doors down known as the P.I.G. or Pelican Island Groceries. My personal favorite is the chicken lunch burrito made fresh starting at 10:30am. My friend and I have the burritos on the days we are looking to spend a little less money or eat a little quicker during our short class breaks. The tortillas, beans, rice, and chicken are all handmade and appetizing.
At night, they turn into a bar with music. Occasionally, they have an open mic night where local musicians come and play or sing. The atmosphere is casual so it is a nice safe getaway for students who enjoy live music and a comfortable place to relax.
Whether you are in the mood for a sit down meal, a quick grab and go, or a few drinks with friends, The Galley offers something for all.