Student Government Presidential Candidates discuss vision for organization and student body
By Mylasia Miklas, '20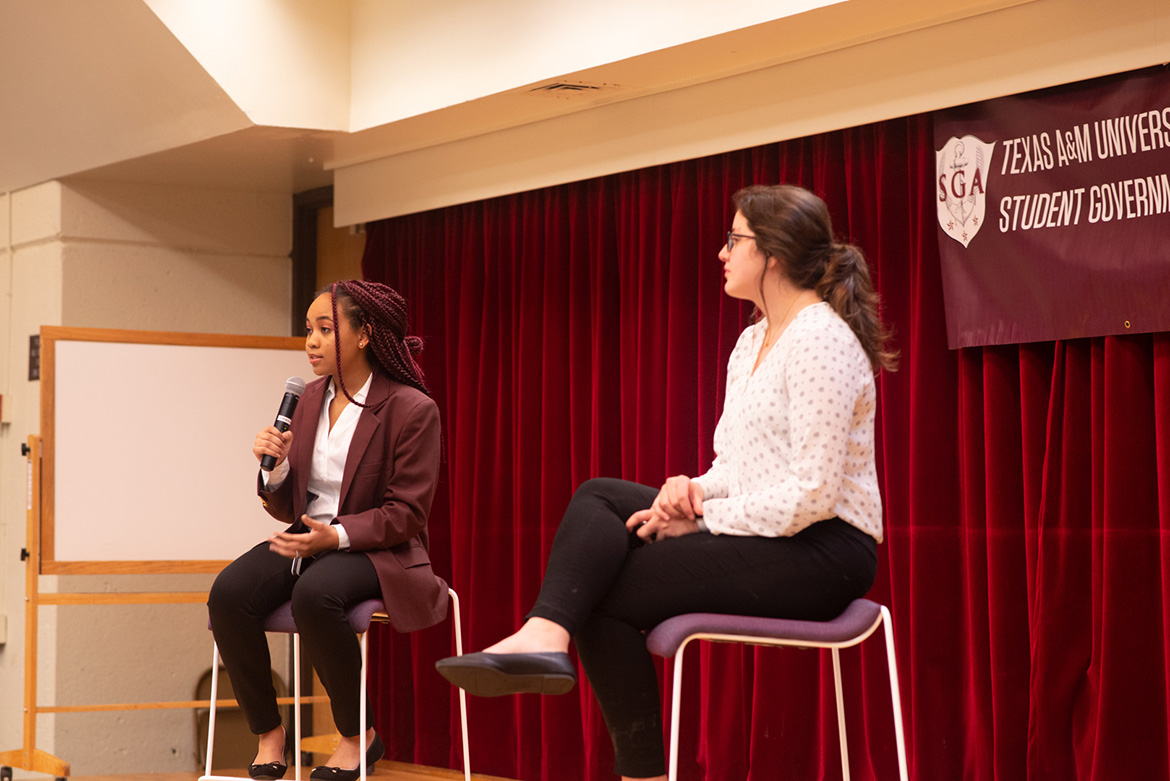 |Photo: Alinoe Roussie
Robyn Battles (left) and Mikaela Lenamond (right) answer questions during SGA Town Hall meeting Tuesday, February 19th.
On Tuesday night, students gathered in CLB 100 to hear Student Government Association (SGA) Presidential Candidates discuss their vision for SGA and the student body before the elections on February 25th.
This year, Robyn Battles, Presidential incumbent and senior university studies major, and running mate Mikaela Lenamond, current Liberal Studies Representative and junior maritime studies major, are running unopposed.
As Student Body President Battles priority is ensuring each student's voice is represented on campus. "Making sure everyone's voice is heard is super important to me," Battles stated, "that is why I got involved with Black Student Alliance and why I got involved with SGA in general."
In order to ensure students are represented, regardless of race or ethnicity, Battles is working closely with the Diversity Initiatives Office to reestablish the Aggies United Council. The Aggies United Council works to insure all student have a voice, all minority groups are represented, and any issues at TAMUG are addressed.
Pressing issues, such as the successful integration of the growing population of Engineering at Galveston Students, were also addressed. "This is not only an issue that SGA is trying to address," explains Battles, "but is also something the COO office is trying to look at."
The difficulty of the integration of engineering students is thought to stem from the Engineering at Galveston students not attempting to get involved with organizations at TAMUG. However, Battles believes it is up to student organizations to help combat this problem. "It is a collective action that we have to do together to insure that we are reaching all of the freshman engineers," explains Battles.
Leamond stresses that it should not matter whether or not you plan on attending TAMUG all four years. "We are all aggies," states Leamond, "so why does it matter if you are in this campus, College Stations campus, or in Qatar."
Student Body Presidential Elections and 2019 Yell Leader Elections will open on Wheelhouse on February 25 and last until February 27. If you were unable to attend the SGA Town Hall meeting, the full meeting can be accessed on the TAMUG Student Government Association Facebook page.
---