Muster commemoration
By Mylasia Mikelas, '20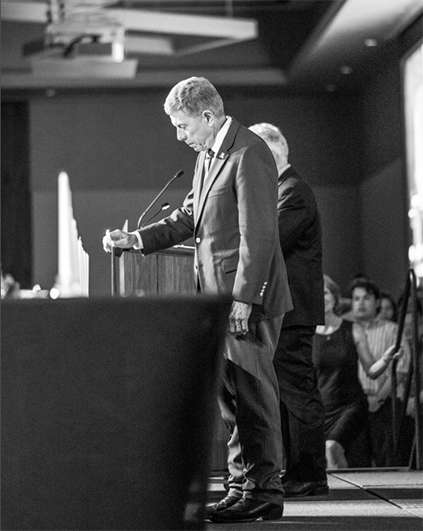 |Photo: Alinoe Roussie, Nautilus Staff
Michael Fossum lighting a candle for Former U.S. President George H. W. Bush
Muster is a time honored tradition that calls all fellow Aggies to gather and pay homage to those who have died within the past year. Current and former Aggies gathered in the Aggie Special Event Center (ASEC) on April 22, 2019 for the annual Aggie Muster.
While not formally known as Muster, the first gathering was held on June 26, 1883. This gathering called all Aggies to come together to relive their former days at Texas A&M. By April 21, 1903, the annual gathering evolved into a celebration of Texas Independence on San Jacinto Day. Since then, the annual meeting day was permanently known as April 21.
Not until the World Wars, did this gathering morph into what we know as Aggie Muster today. The annual meeting evolved into a memoriam for fellow Aggies who lost their lives in battle. Today, Aggie Muster is celebrated in over 300 locations world-wide, including Texas A&M University at Galveston.
At TAMUG, Muster is directed by the Traditions Council. Long hours and meticulous planning was involved in order to create a solemn, yet beautiful ceremony.
This year, Dr. Eli Jones, Dean of Mays Business School, delivered the Keynote Address. Dr. Jones spoke about the unbreakable bond between the Aggie family.
During the ceremony, former U.S. President George H.W. Bush and former First Lady Barbara Bush were honored.