Not your parent's literature class: monsters and marvels on display in CLB
By John Vandewater, '20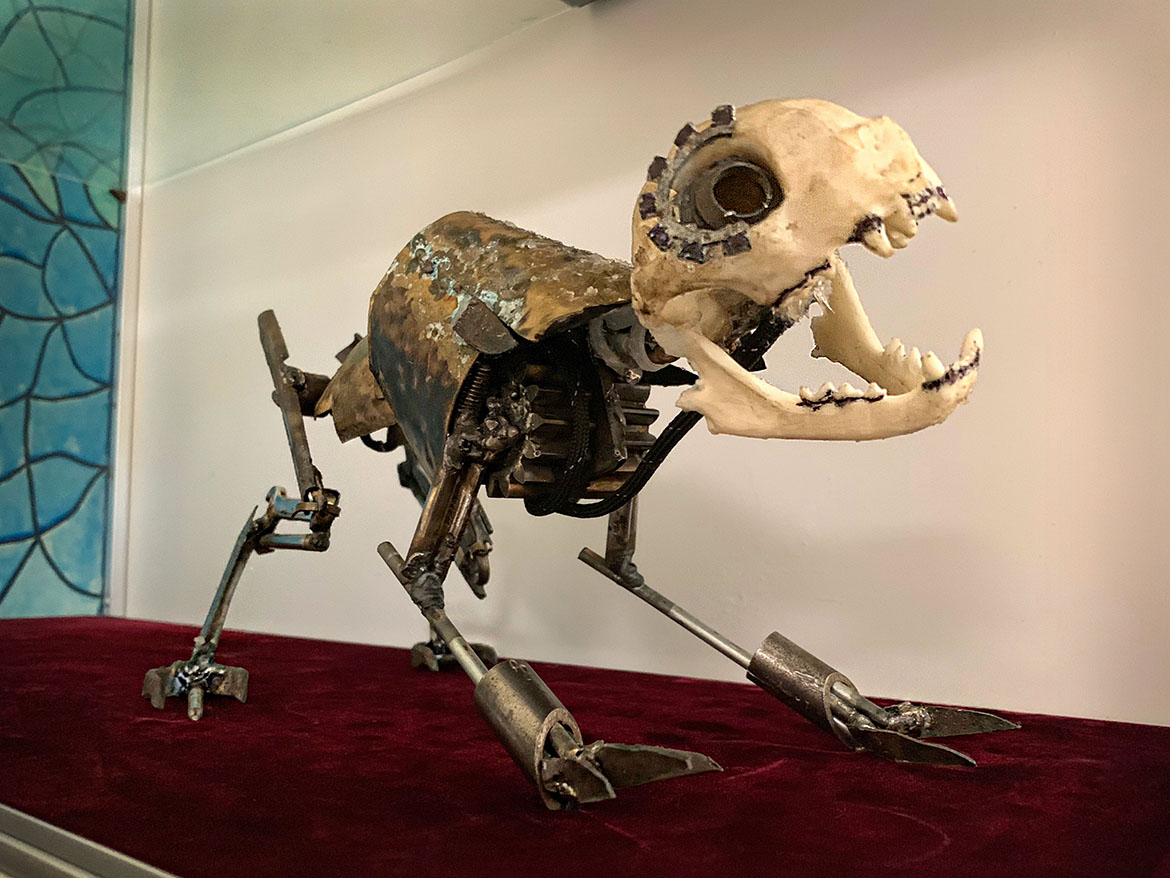 |Photo: John Vandewater, Nautilus Staff
Cat Beast by Michael Langenengger
If you find yourself wandering the halls of the Classroom and Laboratory Building (CLB), you may notice some new pieces of art decorating the yellowish and usually barren walls. These works are the impressive result of a creative design project from Professor Garza-Horne's English 203 class Monsters and Marvels Through the Ages.
This course focuses on examining how monstrous and marvelous characters reflect a variety of historical ideas, social constructs, cultural patterns, and spiritual themes in ways that have become integral to contemporary popular culture. Beginning with short stories from notable authors such as Edgar Allen Poe and Washington Irving, the curriculum then moves in the direction of classic gothic novels such as Dracula, Frankenstein, and a more recent War of the Worlds. During the course of the readings, students are asked to create their own contributions to the cultural tradition of monsters and/or marvels by writing a short story, painting or drawing a series of artworks, fashioning sculptures, drawing a comic book, writing a poem, composing and performing original music, or developing an original video project. Professor Garza-Horne stated that her purpose for this assignment is to "go beyond the norm and showcase the student's understanding of monstrous and marvelous figures within the gothic tales featured throughout the course."
Each participant in this semester's class brought their own creativeness, talents, interests, and favorite characters into the projects being presented. The pieces currently on display include sculptures, posters, dioramas, and paintings. In addition to the visible presentations, other students in the course also successfully composed music, wrote poems, and developed short stories for the assignment. Sophomore Maritime Studies major Bailey McAnulty said she enjoyed being able to tie the course readings from Edgar Allen Poe in with her "favorite books and movies of all time." McAnulty's canvas painting titled the "Eye of Sauron," is also a part of the display.
The exhibit is curated by professors Kristin Josvoll and Julie Garza-Horne and is currently on display in the hallway on the first floor of CLB. For further details about the exhibit or English 203, please contact either professor through TAMUG's Department of Liberal Studies.