Pelican Island goes medieval for one knight only
By Mylasia Mikelas, '20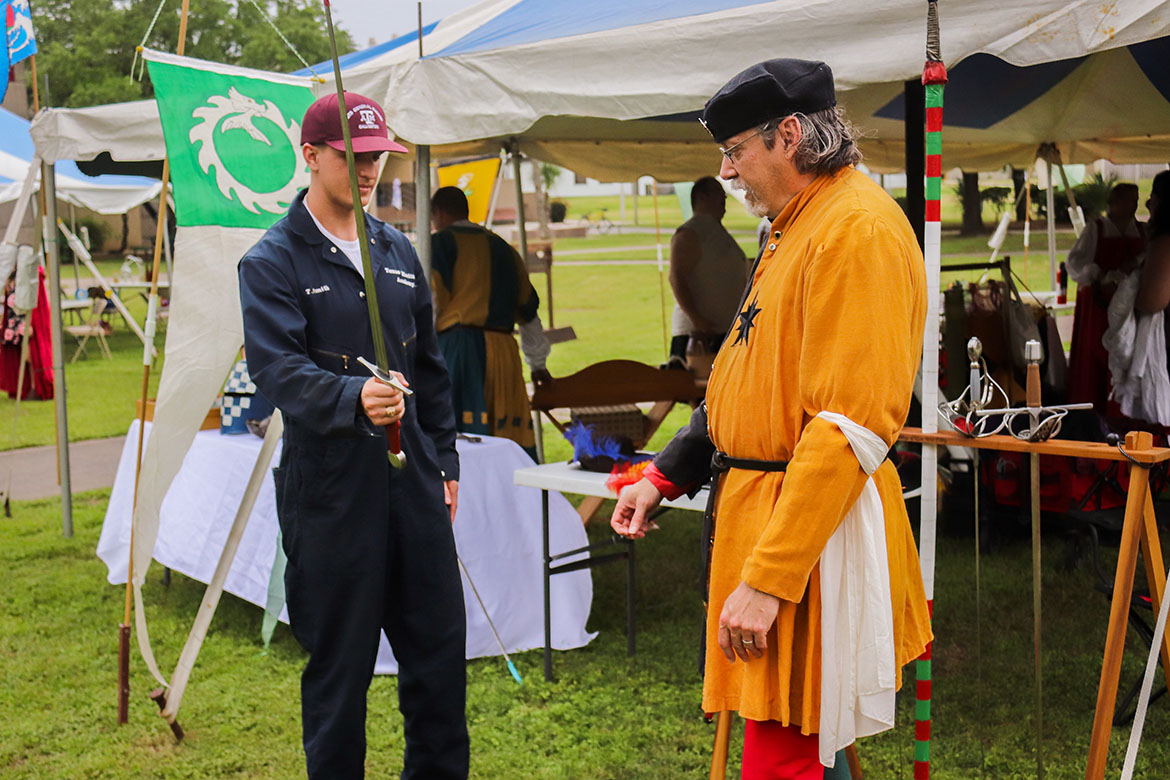 |Photo: Alinoe Roussie, Nautilus Staff
Former president and presidential candidate.
On April 11, Texas A&M University at Galveston hosted its second ever Medieval Festival. Complete with lords, ladies, and plenty of swords and armor, the festival brought students the opportunity to learn about conventions and customs of the past.
Thanks to the efforts of Dr. Katherine Echols, Instructional Associate Professor in the Department of Liberal Studies, and the Society of Creative Anachronisms (SCA), TAMUG was able to continue the tradition of hosting a Medieval Festival. To the SCA, "the festival gives [them] the opportunity to show off ", according to Jennifer Halter (or Baroness Lady Hennessey O'Donoghue, as she is called within the SCA).
Students were able to experience period cooking, drink (non-alcoholic) mead, watch an armored sword fight demonstration, view medieval woodworking and lampwork beads, hold medieval blade artifacts, and learn more about medieval times. Holly Compton (or Elspet Arbuthnoth), a woodworker and pewter badge-maker, and Connie Joe (or Ebergardis Vonzell), a period cooker and lampwork bead maker, were both eager to show students their hobbies within the SCA. Compton hopes that "students get interest[ed] in the medieval ages, discover some things that they thought didn't exist, and find out that not everything needs to be made with modern methods."
The SCA anticipated students would be able to learn more about the Middle Ages. Jennifer Halter hopes students "take an interest and realize there was so much to [the medieval times]." Don Halter, a bladesmith and competitor on the History Channel's "Forged in Fire", brought numerous medieval blade artifacts and shares Jennifer Halter's hope. "A lot of people read about the medieval ages and take classes on it, but to come out and have stuff you can actually handle sparks something different," says Don Halter, "you can't go to a museum and have somebody hand you a 9th century dane axe."
The local SCA group is known as the Barony of Loch Soiller from the kingdom of Ansteorra. Based in Clear Lake, Texas, the Barony is composed of most of Texas and the lower portion of Oklahoma. According to the Loch Soiller webpage, the Barony has commonplace meetings on the first Tuesday of every month at the Clear Lake Park Civic Center. The Barony also gets together on weekends and has armored combat, rapier combat, equestrian courses, jousting, and more according to Jennifer Halter. The Barony is currently planning to start a medieval group on campus. Jennifer Halter shares that the Barony "has people that are willing to come over to Galveston and teach classes on campus."
Students interested in being a part of the Barony of Loch Soiller medieval group should visit https://ansteorra.org/loch-soilleir/.