Dr. Stephen Curley: the most interesting man at TAMUG retires
By Faith Murphy, '22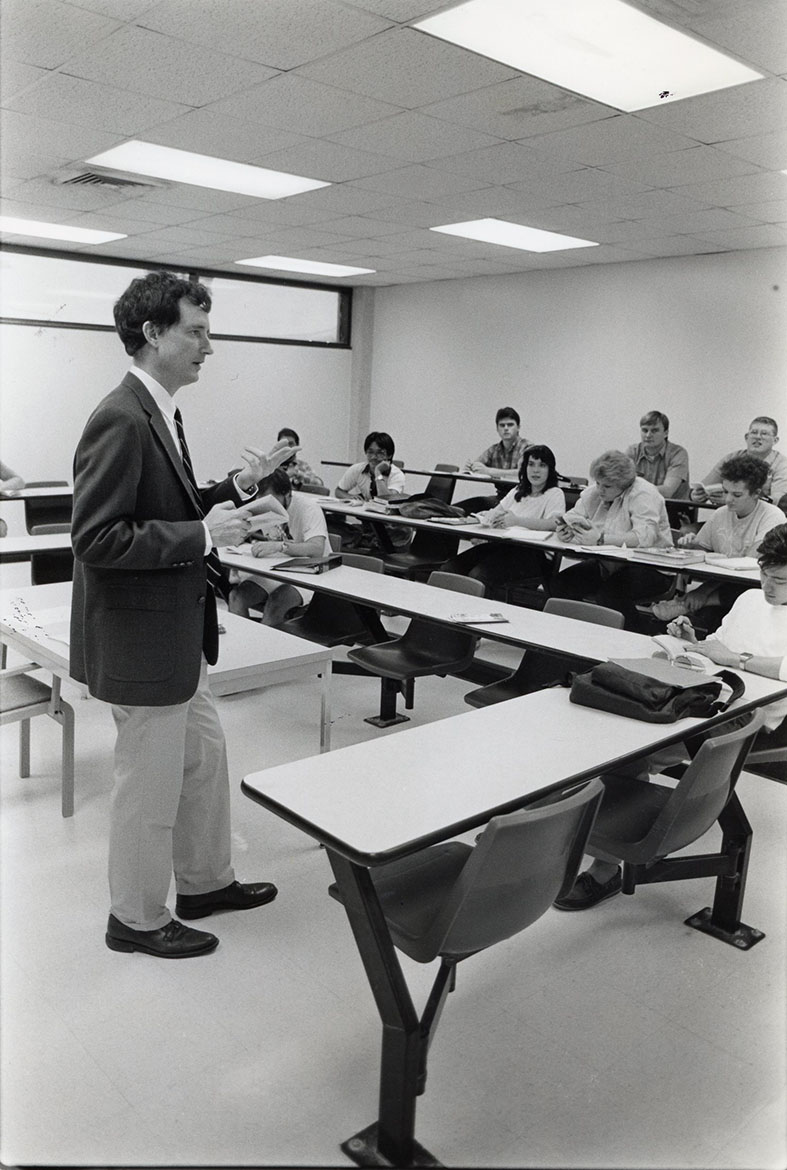 |Photo: Texas A&M archives
Dr. Curley teaching in his early years at TAMUG
Dr. Stephen Curley, Regents Professor at Texas A&M University at Galveston, is retiring after 46 years with the university.
Dr. Curley has published five books and written over 100 articles that were published in different newspapers. He has appeared on television, released a recording of chanteys, and spoke widely on popular culture and the sea. Winning two of the highest faculty awards given by TAMUG: one for teaching the other for service and an award from Texas A&M College Station for being a university level-distinguished teacher award.
Dr. Curley was born and raised in Bronx, New York where he fell in love with English and teaching at a young age. After high school, he attended Fordham University in the Bronx where he got his Bachelor of Arts in English and later moved on to get his doctorate at Rice University in Houston. After arriving in Texas, Dr. Curley soon knew that he could never leave because Texas became home to him. Curley found a job at the Moody College of Marine Sciences and Maritime Resources in September of 1973, now known as Texas A&M University at Galveston. At the time, he thought this job would be a stepping stone to bigger and better things but now, 46 years later, he could not imagine spending his lifetime anywhere else.
Dr. Curley remembers when he started working at TAMUG in 1973, there was only one computer on campus and hardly any grass or buildings on the island. Watching the campus grow and prosper into such a wonderful university has truly been an adventure on its own in his time here. He is going to miss his social life here with students, faculty, and employees the most because he really felt that he fit in and belonged here. Even though he is leaving, a part of him will always stay behind. "A memory is a weightless cargo that stays in the hull," Dr. Curley stated.
After spending so many years here, he could not even imagine just picking one of his favorite memories, so he was able to come up with a few life changing moments that he experienced. In his time here, he was treated very well by everyone around him and felt so much love. According to Dr. Curley, "having affected so many generations and being able to teach students who are truly ready to learn and engage in class has made teaching so enjoyable." He said that every class he taught was just as important to him as the next one.
Dr. Curley's official day of retirement is May 31, which is also his wedding anniversary. In his retirement, he plans to do the four P's; plant gardens, pluck more guitar strings, play with the grandchildren, and paint more watercolors. Make sure to tell Dr. Curley congratulations when you see him around campus and thank him for everything he has done for our university.