Building persuasive communication skills: Eliza VanCort visits TAMUG
By Alinoe Roussie, '22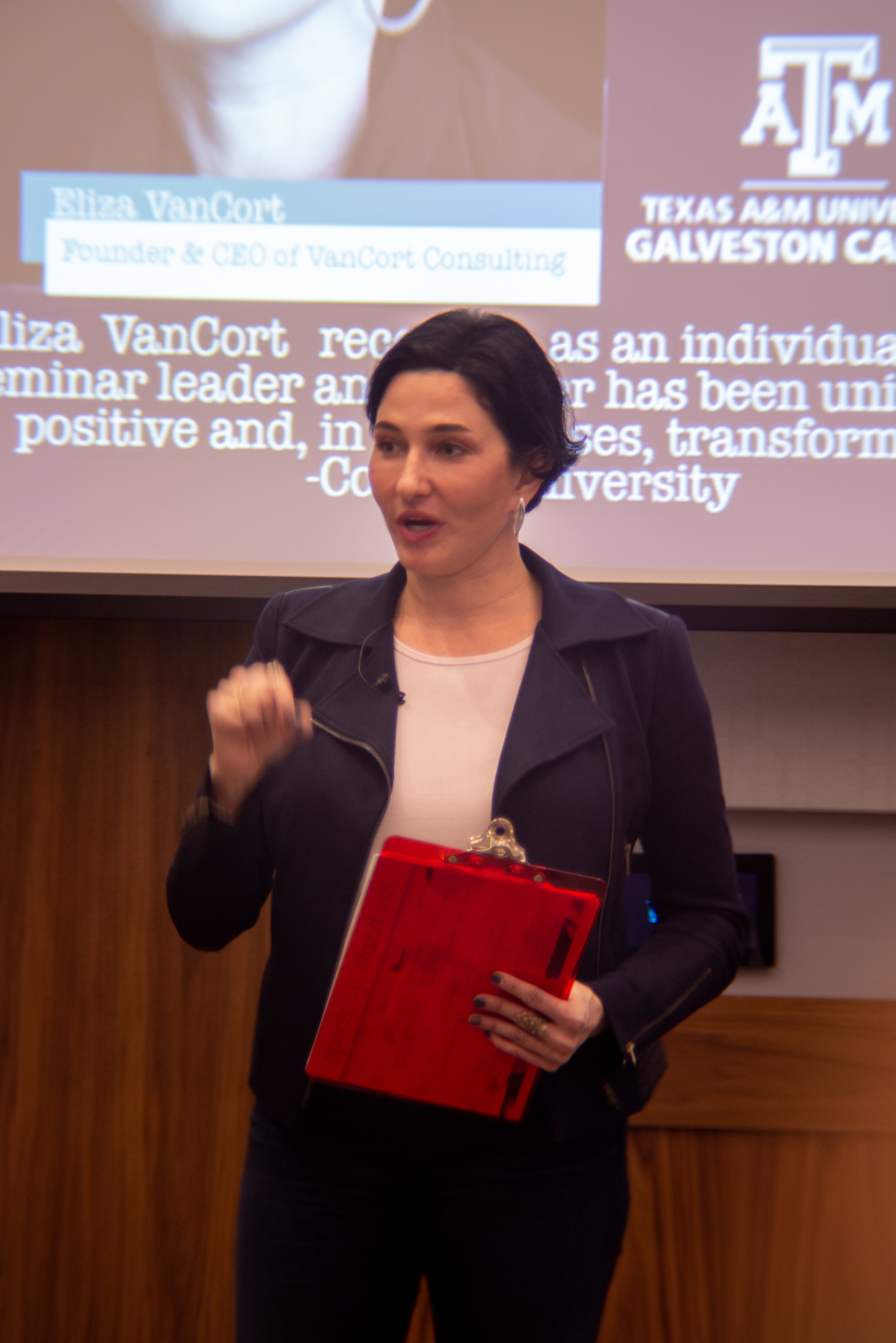 |Photo: Alinoe Roussie, Nautilus Staff
Eliza VanCort presenting in TAMUG's ball room.
Communication and speech consultant Eliza VanCort traveled from New York to Texas A&M University at Galveston last March for a short seminar on communication and persuasion skills. Great tips were shared to succeed in business communication especially when ephemeral career fairs are blooming in this end of semester.
Eliza has been sharing communication skills around the world for over 15 years. She founded The Actor's Workshop of Ithaca in 2000, a performance art workshop in Central New York where she still gives acting classes. Currently, she primarily travels across the globe for her consulting company, VanCort Consulting.
Eliza's presentation was effectively a more in-depth version of her TED talk from August 2018 where she first explains the importance of mimicking posture, owning silence in conversations and using tone, speed and volume to get the audience's attention as well as to give importance to words.
After making her audience practice those new tactics between each other, Eliza then concentrated on the importance of culture differences in various aspects of communication, especially in the workplace. This was done by explaining direct versus indirect feedback feedback where Germany and Japan are respectively on each end of the spectrum. She continued by contrasting egalitarian versus hierarchical societies, where Denmark and South Korea are respectively on each end of the spectrum and trust versus relation based business, where the United States and thailand are respectively on each end of the spectrum.
She tied those aspects of communication with experiences she had as a consultant. When meeting a Danish colleagues, they commented that the proximity in hierarchy between the CEO and the Janitor in his work environment was an example of egalitarian society. Eliza adds that having work related dinners in Hong Kong where everything but their professional relationship and projects were mentioned was an example of relation based business.
This second portion of her talk was a partial presentation of Erin Meyer's book, "The Culture Map." Eliza expands on the cultural differences inside US borders by contrasting Texas and New York and how those variations of a same culture affect everyday life even in the workplace.
In the end her seminar let the audience admirative of her work as well as thankful for giving them potential keys of success. One of her previous German audience member would have even concluded in a very direct as expected way "It didn't change my life but I am confident it will get me a very good job."