The campus drive-thru gone wrong; what really happened
By Mylasia Miklas, '20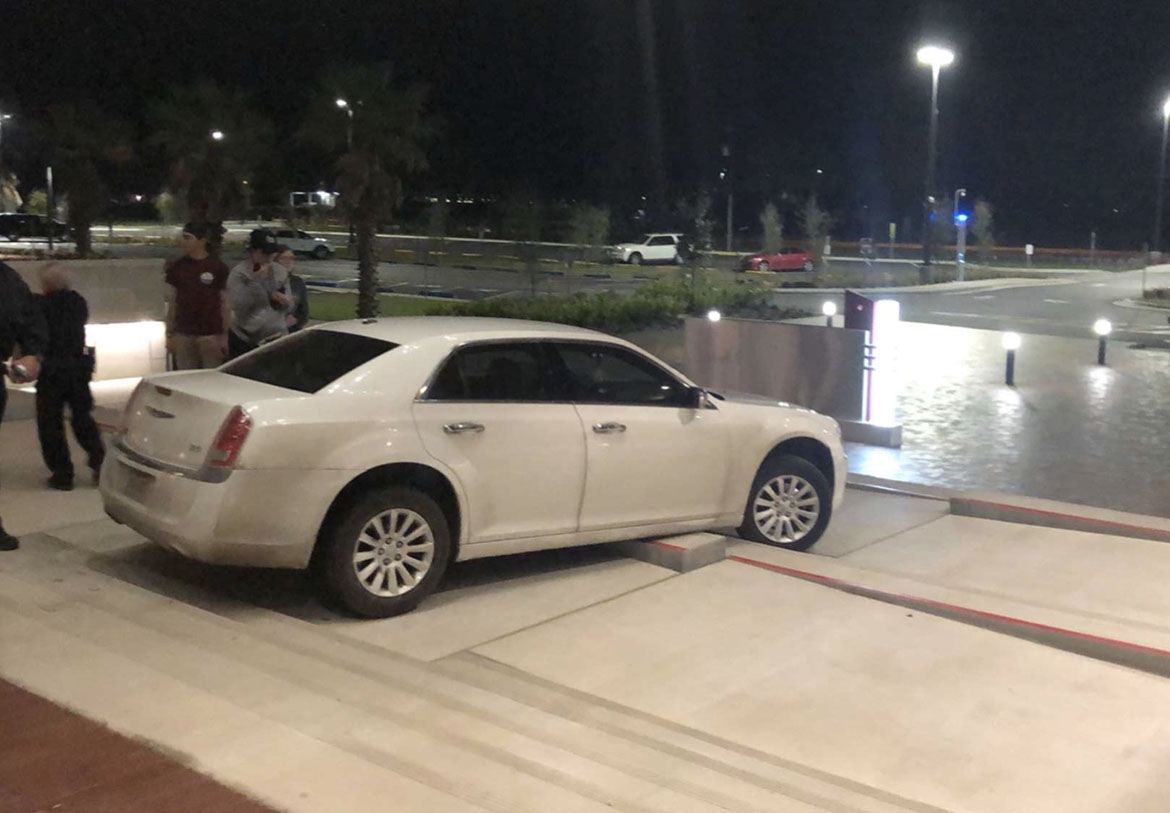 |Photo: Aryan Minooe, TAMUG Student
A discarded Chrysler 300 between the Aggie Special Event Center (ASEC) and MAIN building quickly captured the attention of students early February 24.
The vehicle was captured on surveillance video entering campus through the MAIN front entrance around 1:00 a.m. Rick Kershaw, the campus police officer on duty, quickly noticed the suspicious behavior of the vehicle. The car was described to be traveling at a slow speed which prompted Kershaw to follow the vehicle.
The driver was observed turning into the faculty and staff parking lot of the Classroom Laboratory Building (CLB) and continuing up the sidewalk between MAIN and CLB until it got stuck on the MAIN stairwell. Once stuck, the suspect was recorded fleeing the scene, abandoning the car.
After inspecting the vehicle, TAMUG campus police was able to track down and apprehend the suspect on February 27. The man responsible for the accident was not a student of Texas A&M University at Galveston.
The suspect claims to have fallen asleep behind the wheel. However, TAMUG Police Chief Sam Martinez assumes the driver was impaired. "I suspect he was at Mardi Gras and took a wrong turn," said Martinez.
It was unable to be determined if the driver was impaired, since he fled the scene. Since it is unknown that the driver was impaired, the incident was filed a an accident.
A video of the abandoned car was first shared by Ary Minooe, a freshman general engineering major. The video was quickly shared to various social media pages such as Fullmaroon and Theaggazine. The caption for the posts falsely claim that the vehicle was stolen.
Chief Martinez stresses that it is important to contact campus police before sharing suspicious activity to social media. "We would appreciate it if they give us a call first, there will alway be time to share it later," said Martinez.