Aggie Crew strokes towards the spring season
By Jackson Petroll, '22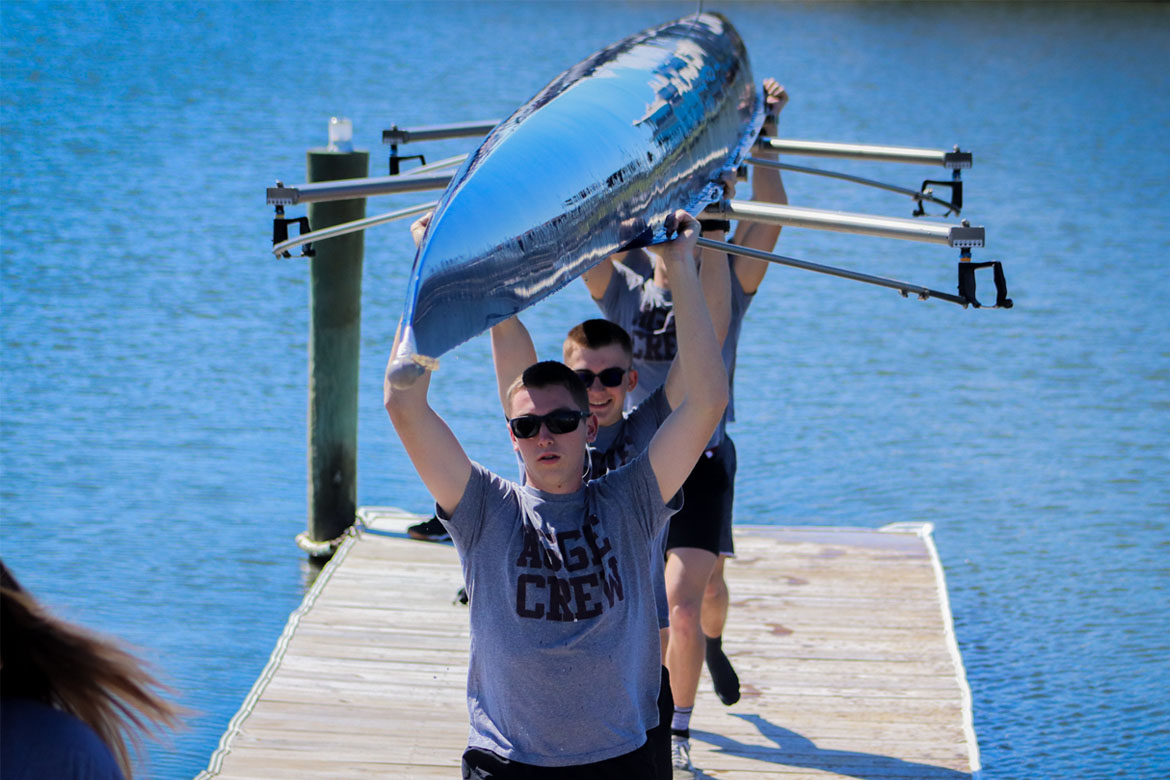 |Photo: Tanner Mallams, Nautilus Staff
Aggie Crew carrying their boat after a stroll in Galveston Bay.
The Texas A&M University at Galveston Crew Team finishes the winter season strong by placing 1st, 2nd, and 3rd across both men and women collegiate novice events in two regional tournaments, Southwest Ergometer Amateur Tournament (SWEAT) and Erg Rodeo, on February 2 and 16.
The Southwest Ergometer Amateur Tournament, took place at Jesuit College Preparatory in Dallas. Two TAMUG Crew members participated in this indoor competition. Alyssa McLeland, a freshman marine biology major, received 2nd place for collegiate women's novice out of seven entries, and Team Captain David Brizzi, freshman marine transportation major, received 3rd place for collegiate men's novice out of the nine entries.
Two weeks later the team placed again at Erg Rodeo. Brizzi placed 1st for collegiate men's novice and McLeland placed 3rd place for collegiate women's novice out of 26 entries. The rest of the team all placed in the upper half of the results. Brizzi attributes the teams success to their competitive spirit, that "The idea of a team and family is stronger on a rowing team, and the motivation is greater."
The Team had been practicing for these indoor erging competitions since the start of the spring semester . During indoor competitions, individual members of a crew team race on an erg machine. This machine tracks how fast and hard someone is rowing for a given distance. "Indoor races are more intense because it's more or less an individual race," says David Brizzi, "It's not a boat. There is nowhere to hide. It's all you."
These In-door tournaments differ greatly from the normal tournaments crew teams participate in. Typically crew teams will race boat shells ranging from one to eight members for a set distance. These shells will either skull (two oars per member) or sweep (one oar per member).
Erg competitions occur during the late winter and early spring, when weather conditions are too poor to host normal rowing competitions in most areas. These erging competitions are significant, because they reflect how well a team will perform the rest of the spring season. During the Spring season rowers will race sprints, or 2000 and 1000 meter races. The intensity of 2K season is much higher than the fall 6K season, because lower distance means higher intensity.
TAMUG's first outdoor event will be at the Heart of Texas Regatta in Austin, where they will race against: Rice, Texas, Oklahoma City, Texas Christian, and Louisiana State universities. If the team does well, the crew team will be invited to compete in the Southern Intercollegiate Rowing Association Championship (SIRA).
SIRA would be the last competition of the year for the crew team, taking place in Oak ridge Tennessee. With the promising results from SWEAT and Erg Rodeo, the team sets their sights on The Heart of Texas and SIRA regattas.