The longest government shutdown; how does this affect TAMUG?
By Savannah Quiros, '22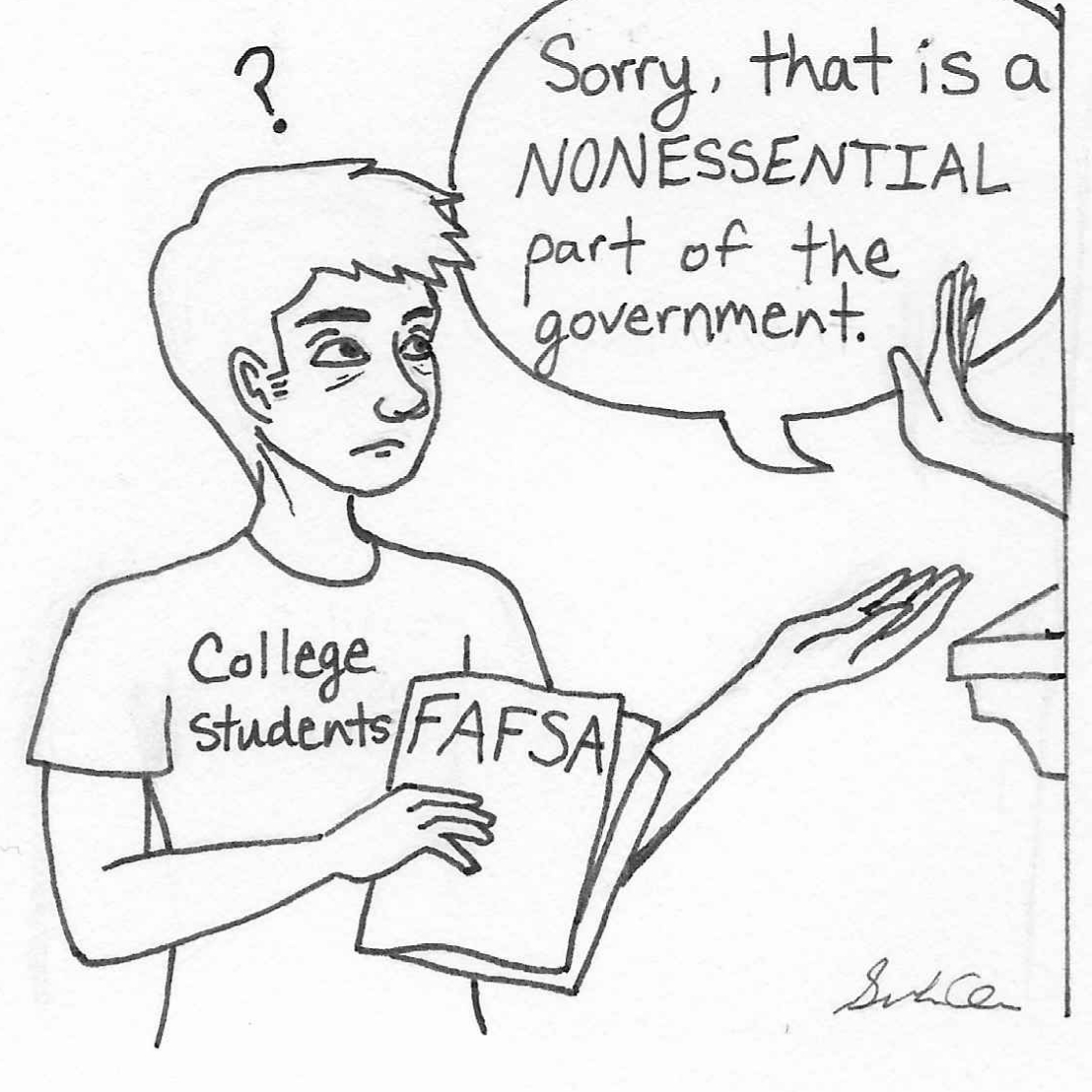 |Cartoon: Savannah Quiros
It's common knowledge that the United States of America has been stuck in the longest government shutdown on record. Furthermore, it is known that the furloughed workers have been anxiously waiting for their paychecks. 800,000 American citizens across the country working without pay. Luckily, President Trump has signed a bill to temporarily restore the government for three weeks on Friday, January 25, in order to allow government workers to be paid their much needed salaries. Knowing this, what does this short-term fix mean for the college students of TAMUG?
One of the largest problems students should be concerned about is regarding financial aid. Students who have not filled out their Free Application for Federal Student Aid (FAFSA) could run into some trouble. The Internal Revenue Service (IRS) is one of the many government divisions affected by the government shutdown, and its closure means a delay FAFSA applications and therefore a delay in Federal Student Aid awards for students. This is important to note since a statement was released the first week of the year on the topic of Financial Aid Disbursements (or payments). From the Financial Aid website of TAMU: "The government shutdown will not affect spring financial aid disbursements. Student financial aid programs and disbursements should not be affected by the partial government shutdown. The federal departments and agencies subject to a shutdown will not include the Department of Education." While some state universities have been waiving late fees for tuition payments, TAMU is not one of them.
Rachelle Craig, Veterans certifying official/advisor, says that while the school's funding is not affected as "we get it from either the state or federal government", there is a change in how students can get their FAFSA verified. "Through the verification process, with the IRS being on a skeleton crew," says Craig, "we are now taking the tax returns instead of the tax return transcripts," seeming to be a solid workaround to the IRS shutdown. From the Student Business Services desk at TAMUG, Sophia Niglio and K.C. Franks assure that there is help available for students whose parents have been affected by the government shutdown. Niglio states that TAMU has "created a special installment plan that will delay payment due in full sixty days after the first class day." K.C. clarifies that the special installment plan is for "students with families who are suffering hardship because of the shutdown." While this is good news, students should still contact the Office of Financial Aid at either TAMUG or TAMU College Station if they have any questions or concerns regarding tuition payment.
Another problem regards the most recent graduates of the TAMUG Maritime Academy. For the December 2018 Maritime Academy graduates earning their Maritime Transportation degree, credentials and a license are necessary in order for them to actually receive their degree. Because the Coast Guard was closed during the government shutdown, acquiring these credentials became impossible and forced to be delayed. Dr. Todd Sutherland, Associate Vice President of Student Affairs, voices his worry that the biggest impact that the government shutdown has on our campus is this licensing and credentials. When asked if this issue could be taken care of during the three-week temporary government restoration, Dr. Sutherland states "the licensing is being taken care of as soon as possible with the coast guard, but after those three weeks, the government might shut down again" and the remaining graduates will be forced to wait even longer for their degree. Dr. Sutherland speaks of graduates he knows with jobs already lined up, but unable to begin because of their lack of degree. TAMUG hopes that these Aggies will soon be able to begin the rest of their lives.
What else does this mean for Galveston County? Many of TAMUG's students live in the Houston to Galveston area, with an estimated 30,000 employees' paychecks being affected. Citizens serving in the Coast Guard and even those at NASA are beginning to feel the very real and devastating effects of missing paychecks: late rent, bills, and other payments that are needed in order to for them to keep supporting themselves and their families.
While the government shutdown has been paused for at least three weeks, students should still be careful about what this means for them and their financial needs. FAFSA application should be filled out as soon as possible in order to avoid delays, and any and all questions should be directed to the proper financial aid office.
---