Students attend annual Student Veteran National Conference
By John Vandewater, '20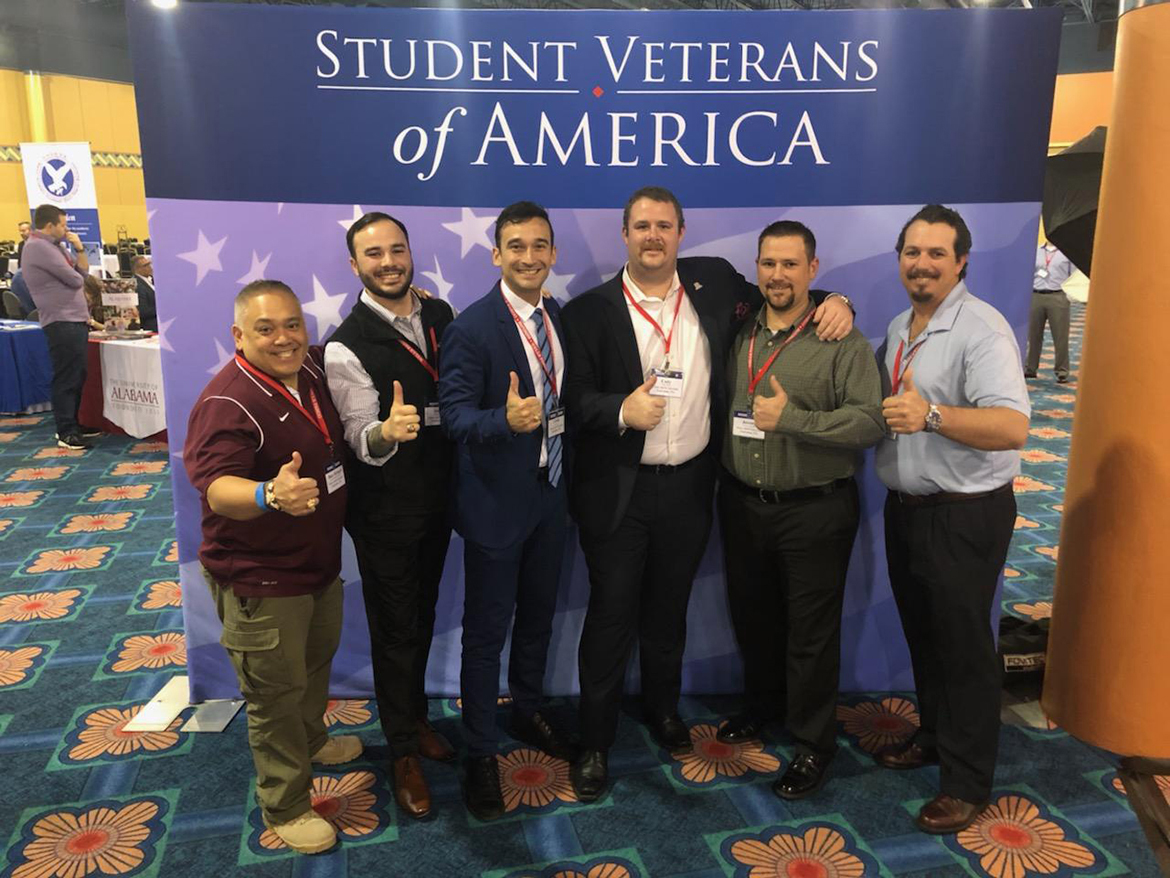 |Photo: John Vandewater
left to right; TAMUG SVA members in attendance of NatCon 2019. Buzz Refugio (Advisor), Jeremy Rychlick, Carlos Caro, Cody Seals, Josh McMillian, Robert Grimsley
While most of us were still on winter break, several members of the leadership team from the Texas A&M University at Galveston Student Veterans Association chapter (SVA) participated in the 11th annual SVA National Conference in Orlando, Florida.
The conference, better known as NatCon, is the largest annual gathering of student veterans and supporters in the United States and hosted over 2,300 student veterans from colleges and universities across the country. Attendees participated in a variety of briefings and break-out sessions that included prominent military leaders from all branches of service as well as key-note speeches from several recognized executives from major corporations. In addition, many of these corporations also established over 100 exhibitors to enhance networking and job opportunities for interested veterans. This year, participating corporations included Google, Capital One, Chevron, J.P. Morgan, Amazon, Quicken, Bp, and Raytheon, just to name a few. The TAMUG SVA student leaders in attendance were Carlos Caro, Cody Seals, Robert Grimsley, Jeremy Rychlick, Josh McMillian, and student advisor Buzz Refugio.
The purpose of this year's 3-day conference was to aid and assist student veterans by providing college benefit information and employment options to veterans transitioning out of service and into their future civilian careers. The schedule of events included a general session that covered diversity and inclusion of all veterans, along with the current state of the SVA and it's plans for the future. Breakout sessions included briefs on several topics ranging from scholarship supplements for current G.I. Bill and Vocational Rehabilitation and Employment (VR&E) users to a career fair specifically designed for networking and job opportunities.
One of NatCon's main goals is to help veteran students understand all of the aid that is available to them and how to utilize those sources. When asked about the benefits of attending the conference, TAMUG SVA Treasurer Robert Grimsley said "The biggest help is learning that there is more than just the VA to help with financial scholarships as well as other programs to assist veterans in their transition and completion of degree programs." The SVA, being led by veterans, understands these problems that are specific to transitioning military personnel and strives to address these issues at NatCon.
Another goal of the conference was to enforce the idea that because many student veterans and SVA members are former military leaders, they have specific skill sets that can also be extremely helpful on university campuses. As a result, these veterans can have a huge impact within universities and can assist in creating future leaders for other student organizations as well. Grimsley stated that his biggest takeaway from the conference was "Helping student veterans understand that there is a place for our leadership and experiences and that we can serve not only other veterans, but the rest of the student body as well."
The SVA is a 501(c)(3) non-profit organization focused on addressing the needs and concerns of American military veterans in higher education. One of the biggest transition problems veterans can have is going from being a valuable member of a team to feeling like they are alone and not making a contribution. The SVAs goal is to give those veterans a place to belong and to share their experiences with a group of other student veterans from a diversity of backgrounds and services.
The TAMUG chapter of the Student Veterans Association is open to any prior service military member of all branches, including the National Guard and Reserve. If you are interested in more detailed information about the TAMUG SVA, please contact any member of the leadership listed above or on the Facebook at The Official TAMUG Student Veterans. If you are a TAMUG student veteran, you are invited to a weekly free SVA lunch every Thursday from 11 – 12 p.m. in the TAMUG cafeteria banquet room.
---