Sucking heads and eating tails; here is your guide to crawfishin' in Galveston
By Macy Hobbs, '21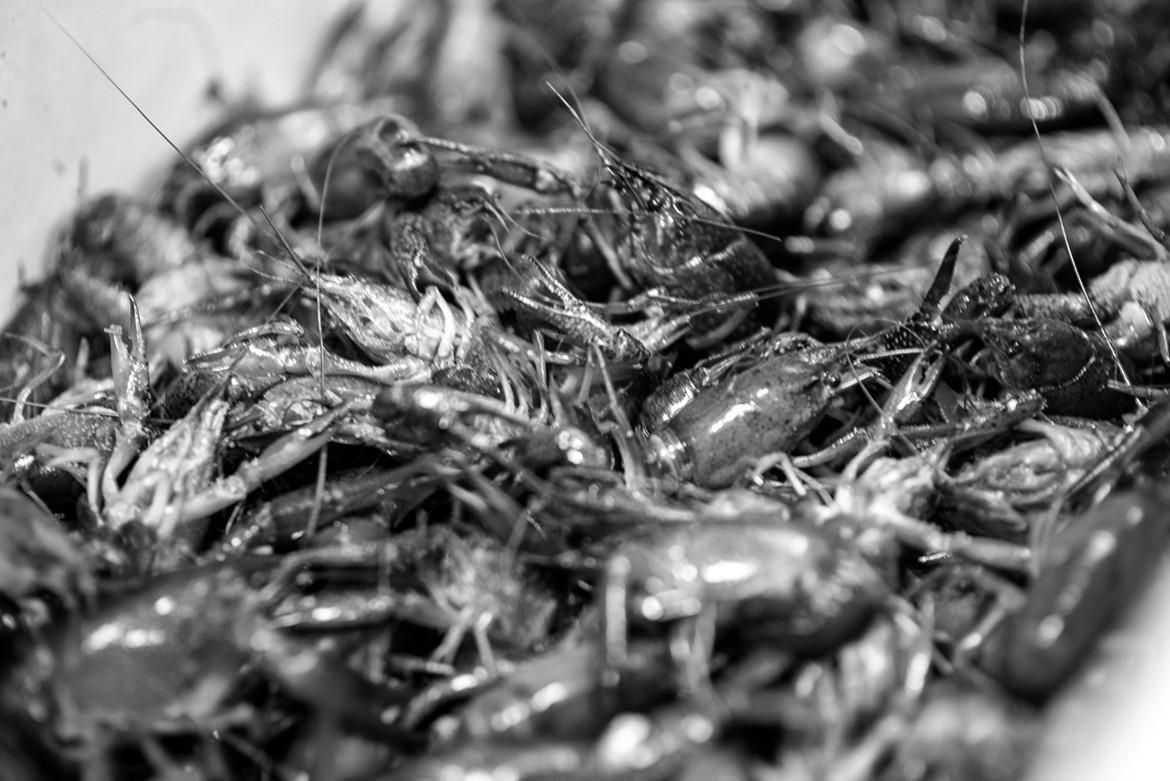 |Photo: Alinoe Roussie
Live crawfish from Huli Huli Hut in Galveston
Welcome to the south where part of our lifestyle is saying "Howdy" when you greet a person and eating crawfish is one of our favorite pastimes. In our region, we are lucky to get in at least six months of good crawfishing which means you have plenty of time to get down and dirty in some mudbugs. Eating crawfish comes with a few commitments that are not your normal dining etiquette, but there is no reason to fear, you too can soon be a mudbug expert! The first is that you are going to get messy, this is not a time to wear your new white Magellan shirt. Secondly, the best part of a crawfish are the juices in the head of the crawfish. Get ready to look silly, tipping up a crawfish! Last of all, this is not the time to be shy about your food, go ahead and eat those potatoes in garlic butter and tear up some sausage that was boiled in with your crawdaddies to get the full experience.
Have you always wanted to try crawfish, but you do not want to be the person that has to ask the server how to get to the goods? No problem! All you must do is follow these steps and you will walk into the situation eating like a pro.
First, you must know the anatomy of a crawfish. Luckily all you need to know is there are two main parts, the head and the tail of the crawfish. The meat of the crawfish, which is what most people are looking for, is in the tail. The best flavor comes from sucking the head where all the boiled juices and seasoning rest together to create a mouth savoring experience.
When getting ready to devour your scrumptious little specimen, you simply get your pinching fingers ready on both hands. Place your left pinchers on the head and your right pinches on the body. To separate the head and tail you will hold the head in place and twist your hand, make sure to keep that head faced down so you all your juices stay in place. Next you want to tilt your head back, real fancy like, and put that crawfish head up to your mouth and let the goodness roll in to your mouth.
Finally, once you're done with the head, throw it aside and get ready to eat to eat the meaty part of the crawfish by tearing a bit of shell off the top of the tail meat. You can use your thumb to push from the bottom up on the crawfish tail to fully extract the meat. Congrats! You've officially figured out the secret to eating crawfish like a real southern pro.
One main key in having a great crawfish experience is knowing where to go and what good crawfish are! Do not make the mistake of thinking frozen crawfish taste anything like live boiled crawfish. During the off-season, many restaurants will continue to offer flash-frozen crawfish, but it is nowhere near the same taste. Everyone cooks their crawfish differently so understanding the difference can save you from spending money on crawfish that may not be top of the line. A good crawfish boil comes from cooking the seasoning in your boil, and not sprinkling the seasoning on after, this does not give your crawfish the flavor you are looking for. Typically, places will offer different levels of spice to their mudbugs ranging from mild to prepare to not be able to taste anything for a few days after eating these. Anytime I go somewhere, besides festivals or all you can eat crawfish bashes, I always start off with a pound to sample the goodies. Most places will offer specials for guest who order crawfish in sets of five pounds, once the season gets rolling, but it is always good to know if you are investing your money the right way before taking a leap of faith!
Looking to have a fun, messy, and unforgettable experience with your friends? Crawfishing can quickly become a favorite way to gather your friends and even make some new ones! Below are a few local restaurants here on the island that offer crawdaddys but if you get in to the scene, there are a ton of venues venturing closer to Kemah and Houston that offer these little fellows as well as festivals and mass boils all over Texas. Currently Cajun Greek is the only local joint offering crawfish but Huli Huli Hut and Benno's On the Beach should be getting started in a few weeks. Venturing off the island you can catch my personal favorite at Lonestar Bar & Grill as well as Jackie's Brickhouse, both located off TX-146 in the Kemah region. Keep an eye out on the Nautilus website for local openings and events you can attend.