TAMUG Men's Soccer team wraps up season with a loss against St. Edwards University
By Emely Cruz, '22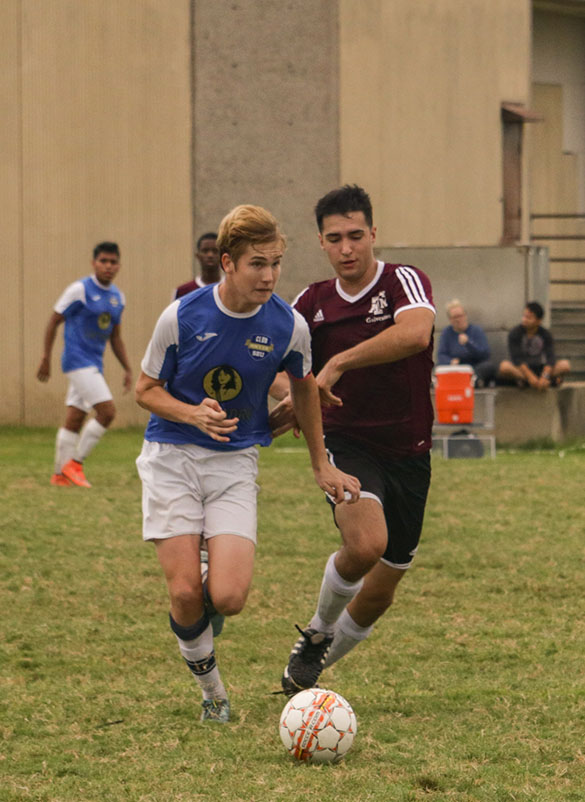 |Photo: Emely Cruz
The Texas A&M University at Galveston Men's Soccer team concluded their 2018 season with an unfortunate loss against St. Edward's University on October 19. Although the final score of the game may have resulted in a 2 to 3 loss, the Men's Soccer team was able to place third in the Texas Collegiate Soccer League under the Eastern Conference.
Throughout the final game, the crowd could sense the growing tension between the players and referees as the referees continued to make calls that were considered controversial by some. Bryan Candelaria, the Vice President of the Men's Soccer team, believed some of the calls made were unnecessary. "I think there were a decent amount of calls made against us that were too soft for what they actually are," explained Candelaria. Despite the circumstances the boys focused on the game, and continuously fought to get the opposing team out of the penalty box.
Overall, the team gave their best and pushed through the circumstances making two corner kick goals. Although the men's team ultimately lost, they left the field with optimism and ambition for the next season.
The fall season presented its overall challenges to the team; most of which were out of the teams control. Galveston was plagued with large amounts of unexpected rain which caused team practices to be cancelled. Without practices, the team was unable to build a cohesive bond. Despite these setbacks, the team went into every game with a positive outlook.
While this season was not as successful as the team had hoped, Candelaria always tries to remind his team that winning is not everything. "I always try to remind the guys that it's important to win, but it's also important to have fun," stated Candelaria.