Aggies helping Aggies; TAMUG Food Pantry is now open to all
By Mylasia Miklas, '20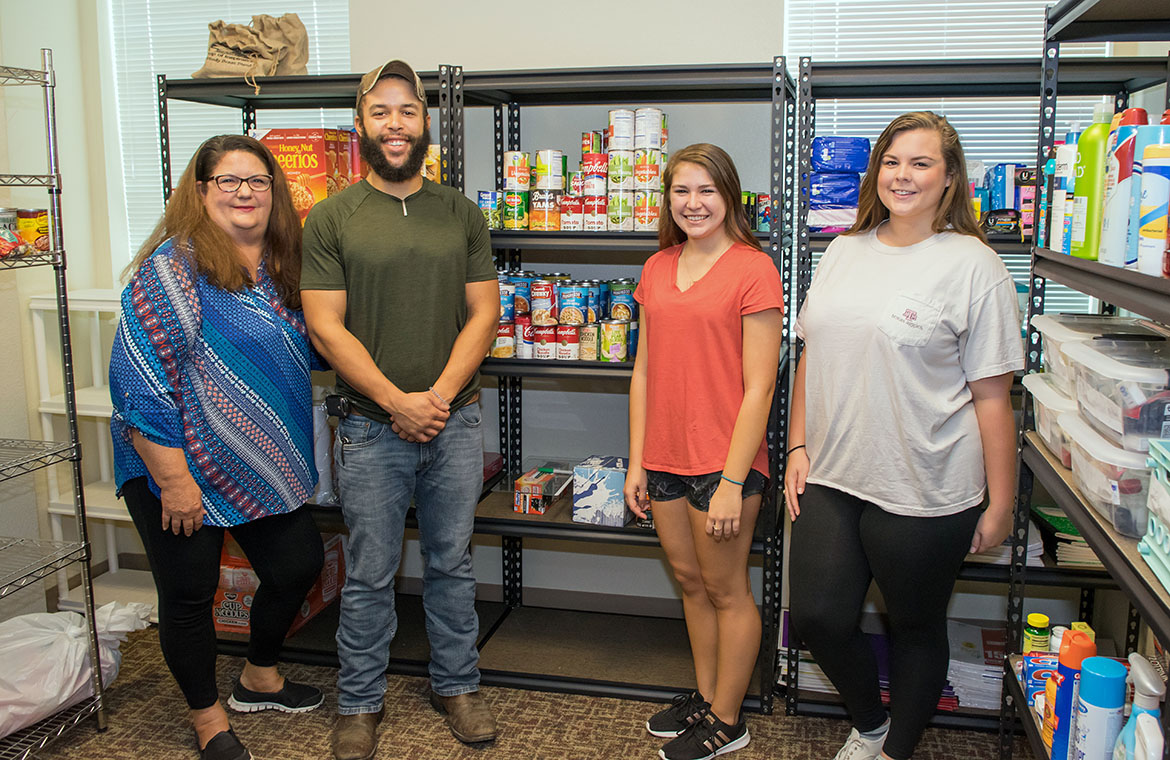 |Photo: John Vandewater
(left to right) Marlee Williams, Jardan Lynch '20, Laney Funk '19, Jessica Quillen, '19
The Texas A&M University at Galveston Food Pantry celebrated its grand opening on November 5 in Atlantic Hall. Marlee Williams, the Resident Life Office Assistant, commemorated the grand opening celebration with a ribbon cutting at 11:30 a.m.
The TAMUG Food Pantry was inspired by an idea from Todd Sutherland, the Vice President of Student Affairs. Through the hard work of faculty and staff, such as Marlee Williams, Taylor Kemp, the Student Development Specialist, and Dr. Joann Digeorgio-Lutz, the Head of the Department of Liberal Studies, the TAMUG Food Pantry was born.
The Maritime Studies (MAST) Honors Seminar and Service Learning Class is a class that connects the students to the community through service projects. Dr. Digeorgio-Lutz, the professor that teaches the service learning class, wanted to focus the service project efforts on food insecurity in Galveston County. Laney Funk, a marine fisheries major and student of the class, suggested the TAMUG Food Pantry as the focal point for this semester. The class teamed up with Marlee Williams to get the TAMUG Food Pantry initiated. "They have done a tremendous job in really getting it up and running," Williams stated.
Before the opening, the students worked hard to gather donations for the pantry. The students held a drive allowing the Maritime Academy students to allow demerits be taken away. This event collected over 1000 cans for the food bank.
Those who need access to the TAMUG Food Pantry must visit the front desk of Atlantic Hall to request and submit the form. Once the form is submitted, the individual is able to collect provisions for up to a week.