TAMUG sailing team begins season with strong performance at Offats Bayou Regatta
By Alinoe Roussie, '22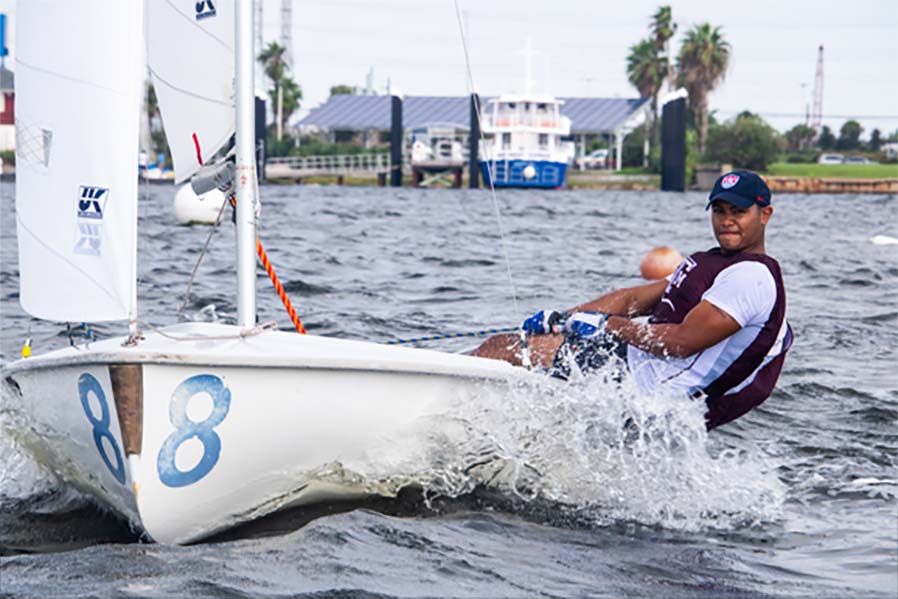 |Photo: Alinoe Roussie
Shea King, sophomore martime transportation license option student, sits out of his boat to not lose speed in the race.
Texas A&M University at Galveston sailing club hosted at the Teichman facility on the Offats Bayou, the first regatta of the season on September 15th: the Troy Swetnam Memorial Regatta.
Alex Schwinn, the clubs' captain this year summarizes it simply as "A great opportunity for underclassmen who have never seen a regatta to actually see what sailboat racing is".
On this first racing day, the teams took advantage of "great wind", Tulane University and The University of Texas were there for "a total of twelve boats on the starting line which is great for a first regatta", explained Schwinn.
For Texas A&M it was indeed a good day: all three teams our club put together after only two weeks of intense practice, won the first three spots of the competition.
But this is just the beginning, according to Alex "we're going to keep pushing in this direction with our new coach, Laura Dalgleish, keep competing, train as hard as we can on and off the water".
Laura Dalgleish, a proud Aggie, has indeed taken over Gerard Coleman. She is Houston yacht clubs' head sailing coach and as the new coach for the club, has made a few changes for its members;
"Off the water, the best thing you can do is make sure your body is ready it for eight-hour days", every Wednesday at 6:30 a.m., when corps is in PT, Laura instaured an hour intensive workout for sailing team and the results speak for themselves: on Saturday, sailors were on the water, racing for over 6 hours straight and even then, they unrigged and cleaned up the boats in record time.
Furthermore, this workout shows commitment and that's really important for any sport team especially when the leadership encourages everyone, even new sailors to race and compete for the team across the country.
Because members have the opportunity to race, because members have the opportunity to represent Texas A&M Galveston all over the United States, sailors push themselves to improve every week, win regattas and the club is heading to a great year thanks to them.