The perspective of the Maritime Academy; is it skewed among students?
By Alinoe Roussie, '22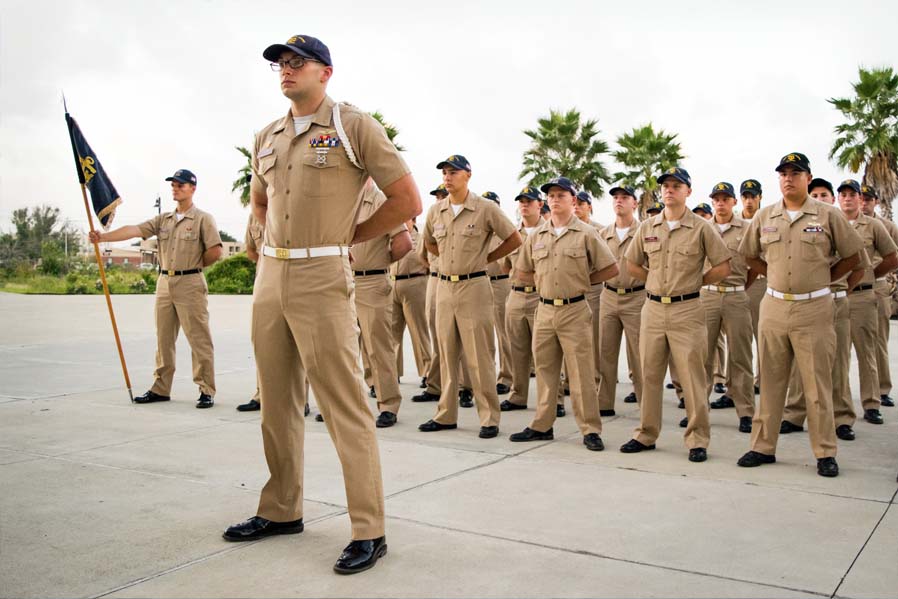 |Photo: John Vandewater
Cadet Lieutenant Commander Lucas Young stands in charge of Alpha Company, 1st Company , 1st Battalion cadets.
People do not always know about how corps works here. Some believe it is a group a military fanatics brainwashing whoever has the lowness of mind of entering the fraternity. Others may think it is like in College Station where virtually everyone in corps is part of the Reserve Officers' Training Corps (ROTC).
Though the latter gets closer to what it really is, the former is outright false. What we commonly call corps at Galveston is the organization that trains both Cadets with no military obligations and Navy ROTC cadets whose ultimate goal is to serve in the US Navy. Though the objectives differ, the means are the same: academic excellence, intensive maritime programs and discipline.
Jonathan Frank, a Cadet freshman, describes something non-corps students may miss,"It creates a form of brotherhood, of camaraderie." but then adds "We retain our individuality, the companies are put together so people can learn from each other, from the commitment and discipline of NROTC cadets to the ease of others to deal with the ocean world and achieve a common goal".
A common goal, all undergraduates have is receiving their bachelor's degree. All graduates have the goal to get their master's degree or PhD.
But here it is a bit different, "It's to work together, get our 3rd mates license" the U.S. merchant marine officer license "and graduate for the betterment of ourselves and the corps": The Corps doesn't take away individual pride or self improvement, it supports it with values that encourages teamwork and academic performance.
The perspective we have on the Maritime Academy is mostly defined by what we see: "the haircut, the uniform to instaure personal discipline, the respect to my superiors and superior officers" but it is also a great gateway to a public service oriented career.
Proof of this is that most cadets of the Maritime Academy prepare to either integrate the coast guard or the Navy and it is a commitment that thanks to A&M is rewarded by actually commissioning in those organizations. That means that those students already know in what they are going to as soon as they join the Academy.
Conversely, for the exceeding majority of regular students, they know in what field they want to work at worse and maybe a specific job at best but without knowing which company or where they want to work.
Altogether, the academic excellence, intensive maritime programs, and discipline and the commitment of Corps students demonstrates how different some of us may approach college and that the Maritime Academy may be a mean to successfully go through those college years.
I