TAMUG Gay Straight Alliance holds event for National Coming Out Day in accordance with LGBTQ History Month
By Sarah Bordelon, '19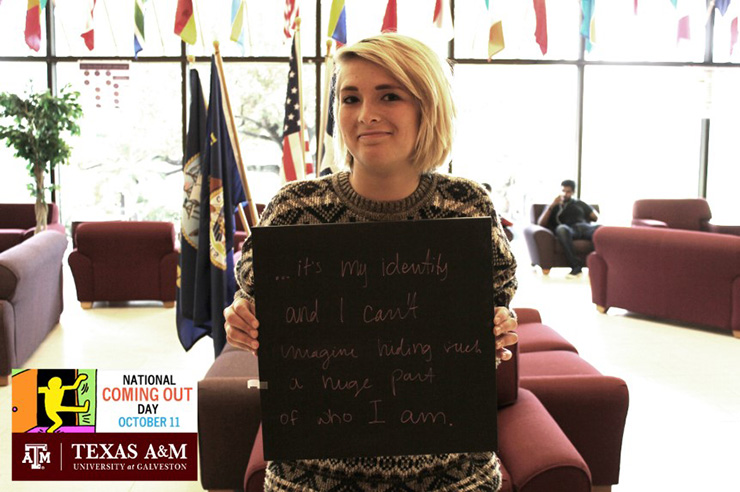 Photo courtesy: TAMUG GSA
Cat Currens, '19 responds to the prompt what is the importance of coming out? with "it's my identity and I can't imagine hiding such a huge part of who I am."
October marks a time to observe and remember the civil rights movement and the history of the lesbian, gay, bisexual, transgender, and questioning community. Coming out and expressing who you truly are can be very difficult as 42% of
LGBT youth say the community they live in is not supportive of LGBTQ people, according to the Human Rights Campaign.
LGBTQ History Month celebrates progressive movements, icons, gay rights and communities. It's a month of celebration and acceptance for those who otherwise feel isolated, judged or scared. It also serves as an awareness month for those to understand what it would be like to walk someone else's shoes.
It pushes people to understand how difficult it is to come out, embrace your sexuality, and to live life happily regardless of the negativity you may be faced with. It is not an easy journey for most, and the hardest part of it is taking the first step to come out.
National Coming Out Day is a celebration for those who have come out and can openly live their lives, those who are scared to come out and now have an opportunity, and for support from anyone helping people to come out and express who they are without fear. According to the Human Rights Campaign, youth who have come out to their family or school report higher happiness levels, acceptance, support, and optimism than those who haven't.
The Gay-Straight Alliance (GSA) is an on campus organization that is trying to help those in the LGBTQ community have a safe and supportive place to turn to by promoting equality and safety while fighting against discrimination and harassment on campus. GSA also educates students on LGBTQ issues such as gender identity, homophobia, and sexual orientation.
As the primary LGBTQ community on campus, GSA teamed up with the Student Diversity Initiative Office and set up an awareness event on National Coming Out Day as a large celebration for those coming out for the first time, and to spread awareness about why coming out is important.
For those participating in the booth, each student wrote on a chalkboard answering the question "what does love mean to you?" And the prompt "coming out is important because…" Individual pictures were taken with each student's response and made into a collage.