Captain Putty takes on the position of Captain of the General Rudder during Captain Kleczar's leave
By Katie Hansche, '18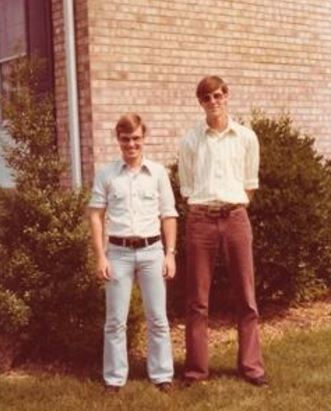 Photo courtesy: Captain Scott Putty
Captain Putty (left) and Captain Klenzcar (right) during the summer of 1976 at Texas Maritime Academy.
From bunkmates on the Texas Clipper to both working for Texas A&M Maritime Academy, Captain Scott Putty, '78 and Captain Joseph Kleczar, '78 have been friends for over 40 years.
Kleczar, vacated his position as the captain of the T.S. General Rudder earlier this semester due to medical reasons, and Putty assumed the vacated position on top of his classes and department responsibilities.
In conversation with Putty, he described Klenczar as a meticulous and integrous man who was good at his job and passionate about teaching the cadets.
The decision to take over his position was an easy one for Putty because of two reasons. For one, Putty has been the captain of the T.S. General Rudder before and is familiar with the procedures and requirements.
The captain of the T.S. General Rudder is required to keep track of Maritime Administration (MARAD) regulations and requirements for training ships as well as the certificates and inspections required for any ship.
On top of that, the captain of the T.S. General Rudder is charged with running the deck department's Corps Activity, ZOPT 300, which is practical ship training where deck cadets learn basic ship knowledge and tool use. Now, since Klenczar is unavailable, and Putty is busy with classes, Chief Mate DeSimone is in charge of deck maintenance.
The second reason Putty readily took the captain position is that Putty and Klenczar have been friends for 40 years, as they graduated from Texas Maritime Academy in the same year. The two Captains were bunkmates on the Texas Clipper for their freshman/sophomore cruise, and have been friends since.
Through their careers, they ran into each other a couple times when boarding and disembarking ships until Putty started working at Texas Maritime Academy (TMA).
Putty at the time was chief mate at TMA, and he was tasked with finding a new captain for the training ship. When he came across Klenczar's resume, Putty described it as a very easy decision.
He knew who Klenczar was, how he worked, and what kind of man he was. All of those factors combined, and Klenczar was hired to TMA. Putty always mentions that the maritime industry is a small one, and his and Klenzcar's story attribute to the validity of the statement: those who you graduate with, you will sail with.
"If you had told me in 1979 that Captain Klenczar and I would both have Master's licenses and had been Captain of the training ship and be teaching at TMA some 35 years later, I would have told you that you were crazy, but here we are," Putty said.
It was an easy decision for Putty to take back the position, but his wife isn't very happy about it. Putty now has to deal with the bureaucracy of having to be the captain of the ship, teach classes and labs, and hold office hours.
Seeing as coming to TMA was supposed to be a retirement move, Putty describes taking on both jobs as going "from 60 to 100." It's a full-time position to be the captain of the T.S. General Rudder as well as a part of MART faulty, but Putty is more than willing and happy to step up.
Putty commented on the change he has seen at TMA since his first semester as a professor in 2012. "The Cadet Corps has doubled in size, we have wonderful new facilities in the Maritime Hall, significant upgrades in simulator facilities and some of the finest instructors I have ever worked with," Putty said.
"The only thing missing is a training ship that can carry all of us on one summer cruise. That is our mission and our goal," he concluded.