ZOPT 300 Maintenance transitions to new General Rudder Staff
By Jack Clark, '19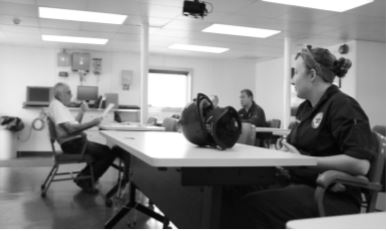 |Photo: Katie Hansche, Nautilus Staff

Gwen Shamley listens to Mate Max Tear's lecture on emergency escape breathing devices and Shipoard Oil Pollution Emergency Plan mandate by OPA90.


Cadets in the Texas A&M Maritime Academy make up maintenance hours that were missed the first week of the semester. While the university is in a transition period of new ship officers the General Rudder has still conducted the usual ZOPT-300 maintenance period in order to keep cadets up to date on sea time.

Captain Putty, the current Master of the General Rudder has been planning and organizing the hire of potential officers to the universities training ship. Putty said that he "hopes to have a temporary 2/M to assist with ZOPT next week."

"We have four candidates for the position and this position is my first priority."

He also explained that the university will be hiring a permanent Master and Chief Mate to conduct operations aboard the training ship. As for the Chief Mate position Putty said that, "We are in the selection phase for the C/M and hope to have that position filled in the next week or so."

Since the delay in the first week, maintenance has continued. Putty said, "2/M Teare is on the ship daily, so there is some maintenance going on. He has been assisted by some of the Corps staff."

Cadet Commander Cole Manders, '17, has helped conduct the ZOPT-300 training period to ensure that cadets are fulfilling sea day requirements by the Coast Guard.
ZOPT-300 is a required period for all license option cadets and is often referred to as maintenance. Cadets report to the General Rudder in their boiler suits, and protective gear and usually conduct task that uphold the daily work needed to upkeep the training ship.

These task can consist of chipping paint and rust, painting, cleaning, ballast soundings, and routine inspections of shipboard equipment. Each ZOPT-300 period is scheduled for three hours a week and over the course of a cadet's time at the Academy these hours add up to count for 30 days of sea time. Other sea day requirements are fulfilled by summer cruises and watch hours.

Although the university is searching to fill new positions watch has continued as normal, with companies rotating weeks and weekends to ensure that the vessel is secure and safe from adverse weather and conditions.

As an alternative option cadets in the license option program can make up missed maintenance time at The American Undersea Warfare Center (AUWC) located at Seawolf Park under the direction of Cadet Asher Spalding, '19. The AUWC houses the USS Cavalla, a submarine, and the USS Stewart, a destroyer escort.

While these vessels are no longer in operation and are available for tours to the public they provide a platform for cadets to gain hands on experience in normal shipboard operations. On a typical Saturday in Galveston many cadets can be seen restoring these historic vessels.