Thompson and Rogers to remain in office for the 2017-2018 school year
By Megan John, '18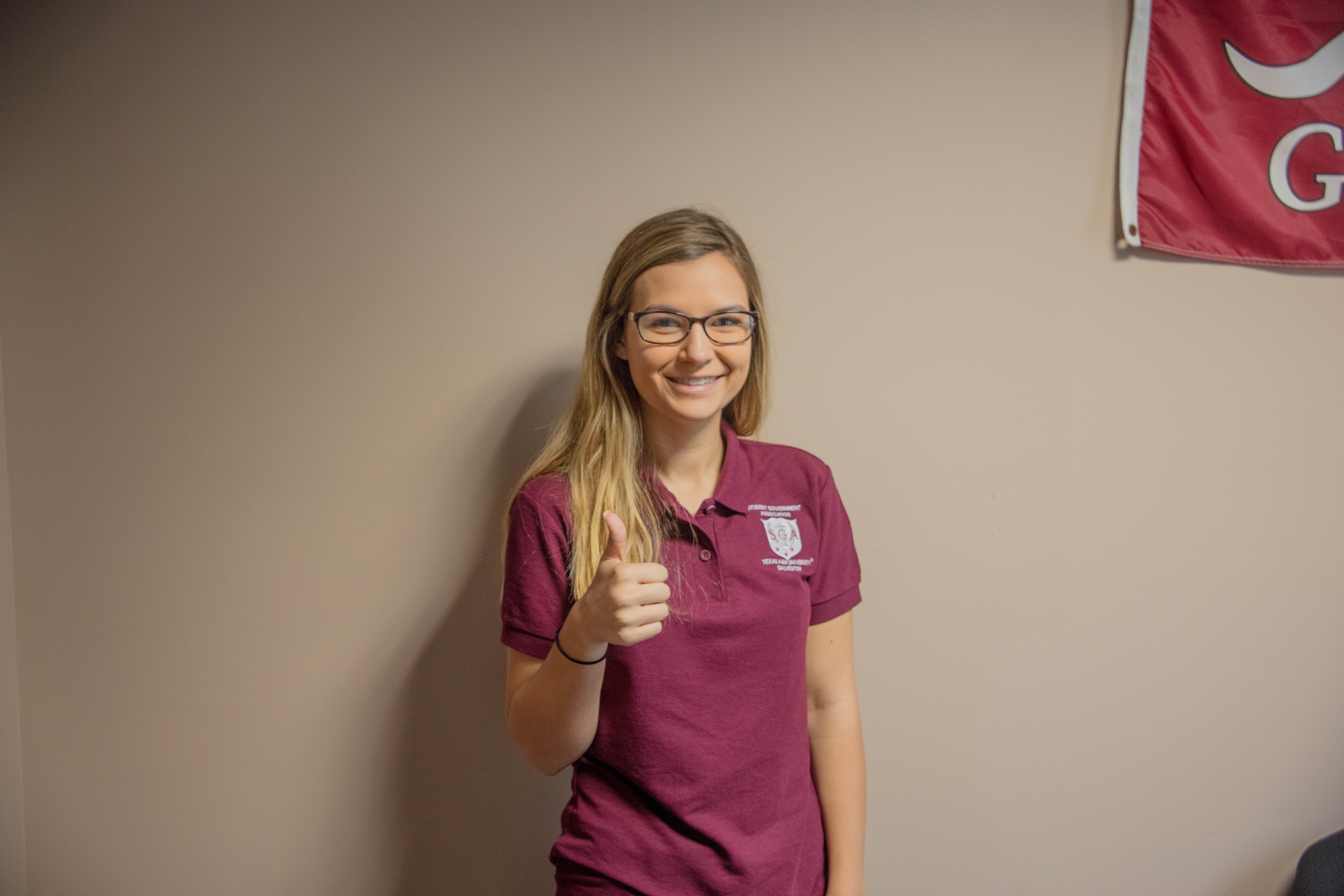 |Photo: Megan John, Nautilus Staff
Danielle Thompson, '18 remains Student Body President for the 2017-2018 school year.
Student body president elections have finished and the results are in. TAMUG's student body president will continue to be Danielle Thompson, '18, and her vice president will remain Brandon Rogers, '19.

Thompson and Rogers won with 56.10% of the votes, leaving Gregory Grimm and Juan Tonche in second with 43.68% of the votes. Thompson says that there are no hard feelings and believes that Grimm and Tonche were qualified candidates that would've led with the same amount of heart that she will.

Thompson came into power as former student body President Devin Paul's vice president in the fall of 2016. While she was studying abroad in Denmark, she would Skype in for meetings and communicate via email.

Since Paul's graduation in December, Thompson has been acting president with Rogers by her side. "This semester has been the preparation period and building platform for next year" Danielle Thompson, '18.

SGA has been trying to create communication between staff and students. The wants of the students do not always match up with what the faculty is able to accommodate, but according to SGA, they are trying as hard as they can.

"Our main goals this year pertain to bridging the gap between administration and the student body, working to make organizations a bigger force on campus, and making sure that there are more avenues for students to make their voices heard" Brandon Rogers, '19.

SGA is implementing ways for students to give feedback through surveys and social media. They are also trying to keep students informed with newsletters and live streaming events on campus.

"I have been working tirelessly with my executive team these past two months to do as much as we could to show the students not only that we are listening but that we are their voice for the changes they would like" Thompson said.

This semester has been a transition semester that consisted of creating relationships between faculty and students as well as improving the standards of SGA. SGA is striving to become advocates for students that provide a supportive environment, as well as having a transparent and honest cabinet of students.

"I will not be changing a lot besides to improve what we're building on! I have instilled the correct methods of communication between SGA and the students and am excited to see where they take us in our relationship" Thompson said.

Thompson and Rogers have worked with Chartwells for dining plans, construction, and the parking issues here on campus.

"I feel like TAMUG can accomplish great things and I think the best way for me to help it achieve its goals is to serve in the Student Government Association. Being given the chance to continue my work made me incredibly happy," Rogers said.

While wanting to do as much as she can for the students, Thompson believes her integrity will drive her actions, and not just follow every want there is on campus. "Making the students happy is important, but you want your legacy to be something you truly believe in" Thompson said.