Galveston Mardi Gras impels enforcement of alcohol policy on campus
By Katlyn Register, '20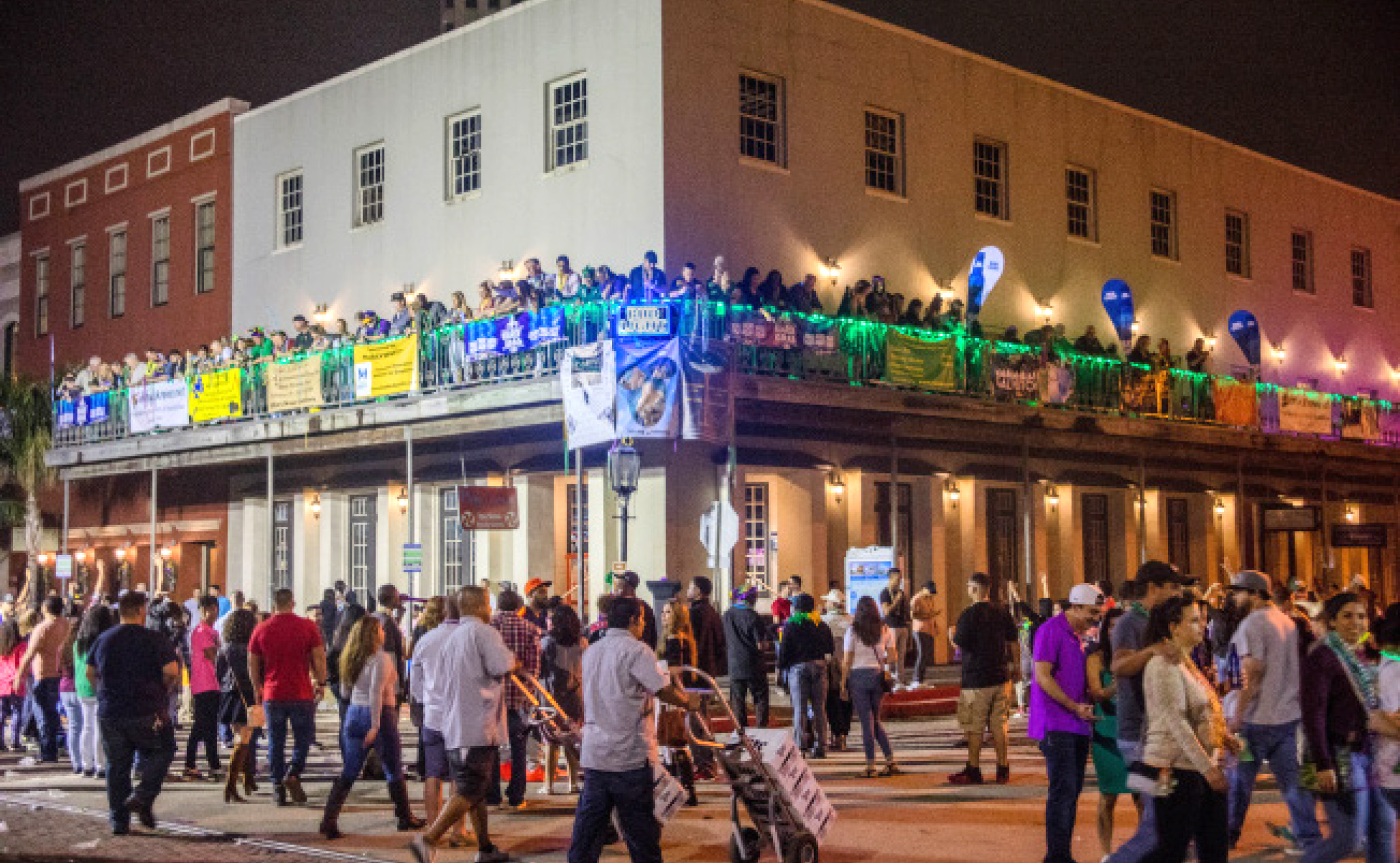 |Photo: Megan John, Nautilus Staff
The historic Galveston Strand decorated in celebration of Mardi Gras. Beads are thrown from the balconies to those walking below.
Beginning in 1867, Galveston's Mardi Gras celebration has a long history of bright colors, beads, floats, and spirits. No, not the spirit synonymous to joy, the spirits associated with alcoholic beverages. Alcohol played a major factor in the Mardi Gras celebration. With Texas A&M University at Galveston in such close proximity to the festival, TAMUG ResLife and campus Police enlist extra precautions to keep the campus dry and ensuring the safety of students.

TAMUG is a dry campus and according to the TAMUG Police Department website, the State Law regarding alcohol includes underage and excessive consumption. Thus, a visibly drunk person is technically not allowed on campus.

Chief of Police for Texas A&M University at Galveston Anthony Martinez said the TAMUG campus police officers' priority is the safety of the students. "We are not here trying to see how many people we can arrest. We are trying to keep the campus safe," Martinez said. He was clear to say that while being intoxicated on campus was a student rule violation, drinking responsibly before returning to campus would not result in an arrest. "[Drinking] to a certain degree is okay" Martinez said. However, if an individual arrived on campus incompetent or "if there will be a problem, [campus police] will have to do something about that" Martinez said.

Martinez mentioned two actions that would result in an arrest: if the student is sick from over drinking, or if the student begins to cause a scene. Martinez explained that officers would arrest students when they become sick for the student's safety. He knows the individual will be taken care of in jail whereas on campus, the student could be left in a room by themself. "If [a student] cannot take care of [one's self] he/she will be subject to arrest" Martinez said. If a drunken student began to cause problems, Martinez said he would have no problem arresting the individual.

"Our main concern is safety and security of everyone, that includes the intoxicated individual and anyone they may encounter." Martinez and the campus police officers will not risk the safety of other Aggies in lieu of an intoxicated student.

When arrested, a student will be taken to the county jail overnight. The student will generally be kept in a more secure cell, but ultimately, that individual is an adult and will be treated like one. After the night is over, a fine will be involved.

Martinez advises that if a student has been drinking, during Mardi Gras, make arrangements to stay with a friend off campus. One should always think ahead when planning to drink and never sell or give alcohol to a minor.