Sisterhood of University Leaders raises funds for D'Feet Breast Cancer with campus carnival
By Ciara Anderson, '16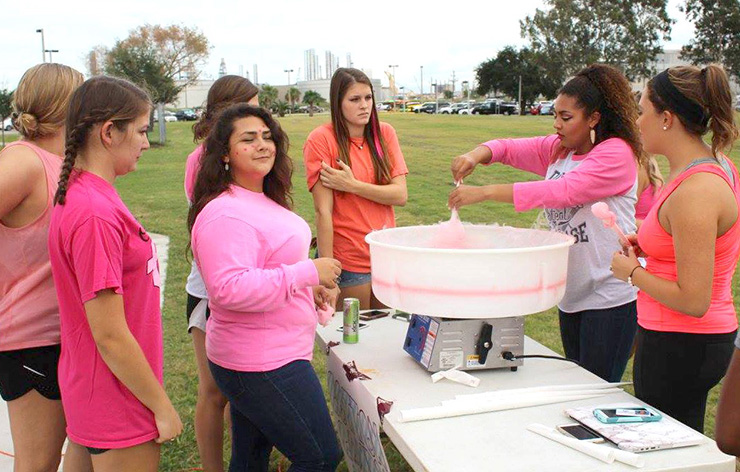 Photo: Amanda Barbato, Nautilus Staff
Members of the Sisterhood of University Leaders (SOUL) spin cotton candy for carnival goers. Each booth allowed attendees to participate in different activities or purchase goods. All the funds generated were donated to D'Feet Breast Cancer.
A velcro wall, fortune teller, cotton candy, free prizes, and so much more were seen at the D'feet Breast Cancer carnival which took place on campus. All of the proceeds that were raised from this event went to the local D'feet Breast Cancer organization, a non-profit that provides services to Galveston County women.
The Sisterhood of University Leaders (SOUL) hosted the event to give back to the community and help bring breast cancer awareness to campus. D'feet Breast Cancer provides community outreach, education services, and free mammograms. As a non-profit, this organization depends on donations.
Sarah Ann McKellar '17, SOUL President, helped create a new leadership opportunities within SOUL. The goal of this organization is to establish leadership skills in women, give back to the community, and most of all give back to women.
SOUL raised funds for the breast cancer organization by creating and selling t-shirts and sponsoring fundraising events mostly at local entities such as Yaga's.
This semester the young women of SOUL now have more responsibilities with new committees created within the club based on their respective majors and passions. Some of the committees include outreach, risk management, corporate, and advertisement.
The teamwork that was displayed throughout the event showed ambition and passion. Some future events that the organization has planned are: a fundraiser for the women's crisis center, education opportunities at IGNITE, and collaborating with the Counseling Center to destigmatize mental health on college campuses.
The goal amount to donate to the non-profit was $1000. The goal has not yet been reached, but t-shirt sales are ongoing. If you would like donate to any of the charities or purchase a t-shirt, reach out to the club via email at soulsisters16@gmail.com. If you would like to become a part of SOUL look for them at organizations night the first week of the Fall semester as they only accept new leaders once a year.