Dr. Patrick Louchouarn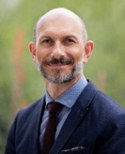 Executive Associate Vice President for Academic Affairs and Chief Academic Officer,
Texas A&M University at Galveston
Associate Provost (TAMU)
louchoup@tamug.edu
(409) 740-4403

Dr. Louchouarn is a multidisciplinary environmental scientist whose scholarship work is focused on understanding the impacts of environmental perturbations on biogeochemical cycling at ecosystem interfaces. The orientation of his research in biogeochemistry deals with 1) the identification of fire markers and combustion by-products in complex environmental mixtures and their application to reconstructions of fire/combustion history predominantly over the anthropocene and 2) natural and human-induced fluctuations in fluxes or natural products and contaminants within watersheds.

French-born, he grew up and completed his secondary education in Mexico City. He then moved to Canada where he undertook his undergraduate and graduate education. He completed a B.Sc. in 1989 in Marine Biology at McGill University (Montreal), followed by a M.Sc. in 1992 and a Ph.D. in 1997 at the University of Quebec in Montreal in Environmental Sciences (geochemistry). His graduate research focused on understanding the cycling of trace metals (mercury), nutrients (phosphorus), and terrestrial organic matter in freshwater and marine systems.

From 1998-1999, he held a post-doctoral fellowship at the University of Texas-Marine Science Institute where he worked on dissolved organic matter cycling in the Arctic. He then held an Associate Research Scientist position at the Texas Engineering Experimental Station (Texas A&M University) until the fall 2000 when he became Assistant Professor of environmental sciences at Texas A&M University – Corpus Christi. In 2002, he joined Columbia University as the Co-Director of a new Master program in Public Administration at the School of International and Public Affairs. He was also appointed Associate Professor of aqueous geochemistry in Columbia University's Dept. of Earth and Environmental Sciences. In 2006, Dr. Louchouarn joined Texas A&M University at Galveston/Texas A&M University as an Associate Professor in the Departments of Marine Sciences and of Oceanography. He became Head of the Dept. of Marine Sciences in 2010 and Full Professor in 2011. After 8 months serving in an interim capacity, he became Executive Associate Vice President for Academic Affairs and Chief Academic Officer for Texas A&M University at Galveston and Associate Provost for Texas A&M University in August 2013. He was recently reappointed for a second term in this capacity in June 2018.

He was educated in and speaks fluently three languages (French, English, and Spanish). During his undergraduate degree, he also studied Mandarin in Mainland China, as part of a Minor in East Asian Studies.

He lives in Galveston and has three children, Naomi, who graduated from his alma mater McGill University, as well as Noah and Teva who respectively graduated from Texas A&M University and the University of Texas at Austin. He became an American Citizen (and Texan) in the spring 2009.