Rick Kline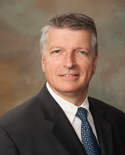 Assistant Vice President for Development
rkline@txamfoundation.com
409-741-4030 (office)
409-502-1181 (cell)
Rick Kline joined the Texas A&M Foundation in September 2014 as Texas A&M University at Galveston's Senior Director of Development.  Rick specializes in overseeing fundraising efforts, stewardship and donor engagement.  He works with current and former students, families, corporations, foundations and individuals to align their interests with giving opportunities in support of our campus.  Rick works closely with the Galveston leadership team, department heads and faculty members to determine specific fundraising needs to support students, faculty, programs and facilities.
Prior to joining the Texas A&M Foundation, Rick spent six years in fundraising for Lehigh University in Bethlehem, Pennsylvania in support of the College of Education and the Baker Institute for Entrepreneurship, Creativity & Innovation.  He has also spent over 20 years within the semiconductor and optoelectronics industries, holding marketing and sales positions for companies such as AT&T, Lucent Technologies, Agere Systems and JDSU. 
Rick graduated from Bloomsburg University (Pennsylvania) with a degree in Secondary Education.  Rick, his wife Jane, and two of his four children reside in League City.