Flower Garden Banks National Marine Sanctuary Trip
For Spring Break this year members of our dive club decided to board the M/V Fling for a 3 day cruise. The Trip consisted of 7 dives.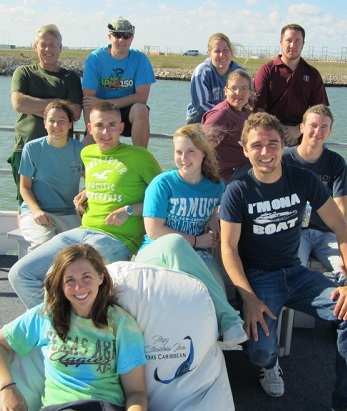 The first Day began with two dives at West Bank, despite moderate current most of the divers were able to make the transit down to the reef for their first glimpse of the sanctuary. After a second dive at West bank in which a Hammerhead was spotted the boat transited over to HI 376 oil platform for the next dive.
Oil rig diving was a first for all of the TAMUG Dive Club members on the trip. Viewing the abundance of life attached to the artificial reef was a highlight of the trip, as was the schools of silky sharks circling the rig. 
After a transit to East bank, divers splashed to get oriented to the site before the night dive. During the orientation dive, a Tiger shark was seen, which made Chad, our divemaster, giddy with joy (yes, literally giddy). During the night dive everyone was dazzled by the abundance of bioluminescent creatures in the water column and the 6-7' loggerhead turtle catching some zzzz's. After consuming as many hot brownie sundaes drizzled with hot fudge, as humanly possible, divers turned in for the night.
The following morning, divers awoke for the final dives at Stetson Bank where they would see the layered slabs of rock, that have been pushed up to create pinnacles, that make this sight so unique. Sadly there were many invasive, but beautiful lion fish seen here. 
Many thanks to the crew of the M/V Fling for making this trip such a great one. As always thanks to Sharron for setting up our trip, to Captain Bland and Captain Mike for taking and returning us safely, to JT for supporting our dive operations, to Todd for keeping our tanks topped off, and especially to Wendy the best cook on the planet.