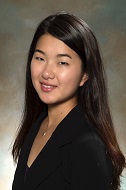 Yan Chen is a Student Business Assistant for the Marine Education Support and Safety Operations Department (MESSO). 
Yan was born in Fuzhou, China, where she spent half her childhood before immigrating to the United States. Upon arrival, she quickly picked up English and was able to learn alongside her classmates. In May 2015, she graduated from Alief Kerr High School and interned under Stone Mountain Properties' accounting office.
She is currently an undergraduate at Texas A&M University at Galveston seeking a Bachelor's of Science in Maritime Administration in hopes of a Masters in Maritime Administration and Logistics.
Her duties while currently working in the MESSO department include tracking and managing expenses, credit card reconciliation, organizing and managing safety and operations reports, estimating, purchasing, and coordinating between the four sub-departments.