James Caruso
Captain James Caruso is a May 2014 graduate from Texas A&M University at Galveston with a Bachelor of Science Degree in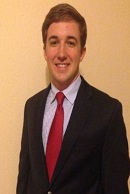 Maritime Administration and a minor in Economics.  He holds a 100-ton master license with a commercial assistance towing endorsement.  Capt. Caruso is also certified in First Aid/CPR/AED. 
During his time as a student at Texas A&M, he worked as a senior deckhand and boat operator for TAMUG's Waterfront Operations Department.  He has also worked for Houston Pilots as a deckhand aboard four vessels, one of which is over 200 gross registered tons. He intends to pursue a Master's Degree, at Texas A&M, in Maritime Administration and Logistics with an emphasis on Shipping and Port Management.
As Boatswain at TAMUG, Capt. Caruso's responsibilities include overseeing and organizing a preventative maintenance program for vessels in TAMUG fleet; serve as a working leader and supervisor of a maintenance crew of student workers; provide skills, training, and quality assurance on the work performed; and document and maintain records of maintenance and repairs performed.