WAVE Living Learning Community
Waterborne Activities & Vessel Experiences
Classes are MORE FUN on the Water!
The ocean is our classroom and you have a unique opportunity to become an ELITE CREW MEMBER of the Waterborne Activities and Vessel Experiences (WAVE) living learning community. Having the ability to live with all the participants of the WAVE community will bring about numerous opportunities.
WAVE experience will provide:
training to become a small vessel operator

Academic support

Career building and resume enhancing experiences

Ability to conduct small boat research projects

Crew commercial or recreational fishing charters

FUN, FRIENDSHIP, AND EXCITING HANDS-ON EXPERIENCES!
Students who participate in the W.A.V.E. community will live together on campus in a dedicated section of our reidence halls. This arrangement gives these students the opportunity to utilize one another for continued academic support and become a close-knit community. Faculty, staff and the upper-class student Community Leader will engage students in programming to enhance their academic experience. This is an opportunity for students who share a similar interest in waterborne activities to live and learn alongside each other, explore new ideas and create friendships to last a lifetime.
All this and more will help you gain professional experience as a novice mariner. You will discover what it means to be a member of a real nautical crew and a life-long learning community.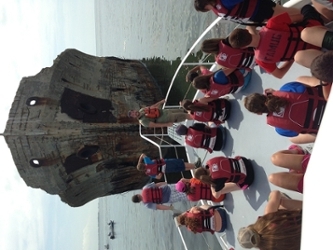 Nautical Term: Hawsepiper
Definition : An informal term for a merchant ship's officer who began their career as an unlicensed merchant seaman