Chief Academic Officer Annual Newsletter
VPAA-Briefs - August 2015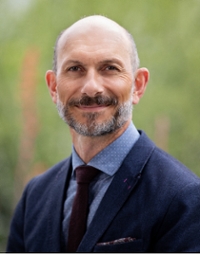 Dr. Patrick Louchouarn, VPAA & CAO
Message From Dr. Louchouarn
"As Jan Baldwin and Bernd Würsig both begin new chapters in their lives, we recognize how the legacies they leave to the TAMUG community exemplify the Aggie Spirit."
Another academic year comes to a conclusion and our story continues to be as upbeat as ever. This may have yet been the most successful year for our campus in the last three years I've been in this position. But before I start going through the laundry list of our accomplishments, I would like to recognize two people who have been the heartbeat of their unit and our campus and who have or will soon start new chapters in their lives. While Jan Baldwin, Director of Physical Education and Instructional Associate Professor, retired from TAMUG in December of 2014, Bernd Würsig, Professor of Marine Biology and A&M Distinguished Professor, recently announced that he will retire from his full time position at the end of the 2015-16 academic year. A few lines of recognition cannot do justice to the positive and inspirational influence they have had on our campus, their colleagues and students. I will speak from my own experience and interactions with them. They both came from non-Aggie backgrounds, and yet they epitomize the core values of A&M in their actions and words. I discovered this simple fact about A&M. Stay long enough and this institution will transform you. It will give you a sense of place and a mission. And we are fortunate to have people like Jan and Bernd to act as the standard bearers of this pursuit of excellence and mission of commitment.
In keeping with TAMUG's tradition to have a Faculty speak at the summer commencement, Jan gave last summer's commencement address. I found her address to be a summary of her service and contribution to Texas A&M: funny, inspirational, gritty, generous, and emotional. She was honest and direct, as she always is, in her advice to recent graduates about fulfilling one's personal life goals: "believe in yourself, trust your preparation and know deep inside that you can accomplish anything".  She also gave the following advice, which is fundamental truth about how she lived her life: "give back, give often, give unselfishly. Realize that others are looking to you for leadership". In fact, Texas A&M is a place where the notion of leadership is central to everything we do. And people like Jan and Bernd are fantastic role models and leaders that inspire all that study or work with them to reach higher grounds. They epitomize leadership through their actions and commitment to excellence, Jan through her commitment to embracing physical challenges as a way of life and education and Bernd through his decades-long definition of the field of marine mammals and his care for his students and colleagues. Both are among the most approachable, respectful, and service-oriented people I know. Both have shown an incredible loyalty to our school, their colleagues and students, and both completed their career with elegance and integrity. Little do they know that their presence and actions not only influenced their students and their peers, but are guiding principles to how I would like to see my career once its in the rearview mirror. I personally thank them for their years of service and inspiration. You will be dearly missed but never forgotten.
Now to the matter at hand, an update on the accomplishments from the past year. First let's do the numbers. TAMUG passed a milestone with this past weekend's commencement ceremony. We have graduated over 400 students from TAMUG programs in one year (368 undergraduate and 39 graduate students). This is an increase by 14% and 26% over last year for undergraduate and graduate students, respectively. We also continue our enrollment growth with a projected 2,400 total students for the beginning of the Fall 2015. I thank the Office of Enrollment Services for their hard work. Most significantly, our graduate enrollment will reach  over 200 students in graduate students enrolled in all programs (TAMUG students and TAMU students in residence in Galveston), which represents 9% of total enrollment. This indeed is a milestone and is achieved thanks to the hard work of Nicole Kinslow and Holly Richards (in the Graduate Studies Office), and most importantly our exceptional Graduate Faculty who are attracting these students from around the world.
Graduate student recruitment has been supported in part by a fantastic success in awards of research grants (see below) and in the doubling of graduate student fellowships (2 years, fully funded) as part of a strategy to become more competitive in attracting top students and Faculty. This strategy seems to be paying dividends very quickly.
Our growth in number will soon be matched by one in facilities. We recently finalized the design of Phase 1 of our academic complex, and expect to break ground in the first half of the Fall semester. This ~83,000 gross square foot (~52,000 assignable square feet) facility will offer state of the art teaching environments (labs and dynamic teaching rooms), one stop shop for student services (from bursar, to registrar, to advising and mentoring), study spaces in every possible nook, a visitor center, and office suites housing the upper administration, academic affairs, and research and graduate studies. The campus anticipates a Spring 2017 completion of Phase 1. In addition, and thanks to the generous support of the State Legislature, TAMUG anticipates starting the design of Phase 2 of the academic complex this fall and should be ready to break ground in Fall 2016 once the legislative funds are appropriated. This phase of the academic complex will include a large multipurpose space to support our academic mission and has a tentative completion date of Spring 2018 These two buildings will give our campus the full capacity to reach our enrollment target of 3,000 upon completion. Finally, the completion of Texas A&M Maritime Academy Hall remains on schedule for mid-November with midshipmen occupancy no later than the first day of Spring 2016 classes

A number of new initiatives took place in the last year and will help our campus better integrate in Texas A&M University and meet its dual mission of maintaining the high standards of an Association of American Universities institution and those of a Land Grant University. Admiral Smith was instrumental in their support and authorized requested funding in support of advancing our research outcomes
During the past year TAMUG has developed a close partnership with the Dwight Look College of Engineering at Texas A&M University, that will lead to the a higher mobility of students across our two campuses and the full utilization of our coastal campus as an "instrument" in offering a unique educational experience to more Texas A&M students.
In January Texas A&M University at Galveston signed a Memorandum of Agreement with the Copenhagen Business School in Denmark that will engage 15-25 students from each university in a semester-long study abroad program as an exchange between the Department of Maritime Administration (TAMUG) and the CBS Maritime program. Copenhagen Business School was established in 1917 and became integrated as an institution of higher education in the Danish education system in 1965. Today, CBS is one of the largest business schools in Europe with close to 20,000 students and offers world-class research- based degree programs at undergraduate, graduate and PhD levels as well as executive and other post experience programs.
We inaugurate a new institutional 2-year Postdoctoral Fellowship to accelerate the recognition of TAMUG through high impact research and publications. The first postdoctoral fellow will join us this fall (see description below). Evaluation criteria for the selection included the quality and impact of the research proposal, first authored publications, impact factor of the journal of the first authored publications, research experience, fit with TAMUG research, and letters of recommendation.
In FY15, we continued our Faculty investment program with the recruitment of a number of new Faculty (see new hires above) that will join us in the Fall 2015. We are poised to continue our recruiting of up to 6 Faculty lines this academic year. Among the positions already identified for the Fall 2016, we will be searching nationally for faculty in microbial ecology/microbiology and a marine mammals (MARB), management and economics (MARA), political sciences and English (Liberal Studies), and marine engineering technology (MARE).
And finally, we continue to formalize the support for undergraduate research with the funding of a 10 new fellowships ($2,000/yr) that will continue placing top undergraduate students in research groups and support travel (up to $500) for these undergraduates to present their work at national conferences.
Faculty Promotions & New Faculty Members
New faculty hires and promotions serve TAMUG's efforts to enrich the understanding of and offer applied solutions to systemic grand challenges in ocean sciences, maritime affairs, technology, and the liberal arts as they relate to marine studies.
Dr. Rainer Amon (MARS), promoted to Full Professor.
Janetta Baldwin (LIST), Kinesiology granted Instructional Associate Professor Emerita status.
Dr. Carol Bunch Davis (LIST), English granted tenure and promoted to Associate Professor.
Dr. Juan Horillo granted tenure and promoted to Associate Professor.
Debra Maceo (LIST), Kinesiology promoted to Instructional Professor.
NEW HIRES
Dr. Chaouki Boulahouache joins the MARS department as the Physics Lab Director and Instructional Assistant Professor. His field of expertise is Experimental Particle Physics which spans a wide area of research interests, including the Physics of Particle Detectors with a strong expertise in Data Acquisition and Data Analysis Techniques. He received his Ph.D. in Physics (2002) from Syracuse University, and has been teaching as an Adjunct Professor at San Jacinto College and Houston Community College. He held leading positions while working as a Research Associate at both Syracuse University and the University of Pittsburgh, and as a Research Scientist at Rice University.
Joseph Bosquez joins LIST in Fall 2015 as an Instructional Assistant Professor in Kinesiology and he will be teaching for our Dive program. Joe has a B.S. in Marine Biology from Texas A&M University at Galveston. He has over 1,000 diving hours logged at NASA's Neutral Buoyancy Laboratory and he has worked as a Diving Technician for TAMUG providing support for research projects per AAUS standards for NOAA, Texas Department of Fisheries and Wildlife and as a research project diver.
Capt. Thomas Brown joined the MART department Spring of 2015 as an Assistant Professor of the Practice in Marine Transportation. He graduate from Maine Maritime Academy in 2000 with a B.S. in Marine Transportation Operations and University of Maryland School of Law in 2009 with a J.D. He is a former Navy Officer in the Judge Advocate General Corps with previous maritime experience in vessel operations for the U.S. intelligence community after 9/11, combat as Rule of Law officer in Afghanistan, in litigation of various maritime cases, and as a merchant marine aboard the Liberty Ship SS John W. Brown. He served as Editor-in-Chief of the Maryland Journal of International Law.
Dr. Edward Clancy joins TAMUG as the new Head of the Department of Marine Engineering Technology (MARE). Dr. Clancy held previous tenured Full Professor positions while serving as Department Head at two U.S. institutions. From 1985–1988, he served as Head of the Department of Engineering at the California Maritime Academy (Mechanical Engineering and Marine Engineering Technology degrees). From 1989–1994, he served as Chair of the Department of Engineering at Cal Poly Pomona (Five degree options: Mechanical, Aerospace, Manufacturing, Electronic & Computer, and Construction Engineering Technology). Among his senior service, Dr. Clancy also counts serving as Program Director of the National Science Foundation's Industry University Cooperative Research Centers, and as commissioner of the Accreditation Board for Engineering & Technology (ABET). In addition to his expertise in engineering technology, Dr. Clancy holds licenses as professional engineers in two states, a as U.S. Coast Guard license as Chief Engineer, and a license as patent attorney. Dr. Ed Clancy graduated from the United States Merchant Marine Academy in marine engineering (BS). He has graduate degrees in mechanical engineering from Columbia University (MS), Stanford University (D.Eng - Degree of Engineer) and a graduate degree in Civil/Environmental Engineering (MS) from University of Southern California. Professor Clancy also has his MBA degree (Golden Gate University) and his JD degree from Western State University, College of Law.
Dr. Okan Duru joins MARA an Assistant Professor of Maritime Finance and Logistics at the Department of Maritime Administration, Texas A&M University at Galveston and received his Ph.D. from Kobe University, Japan on the Economic analysis on the long term assessment of dry bulk shipping. His research interests are in shipping asset management, behavioral economics of shipping business, forecasting, judgment and decision making. He is the current Editor–in–Chief of The Maritime Economist Magazine.
Dr. Amir Gharehgozli joins MARA as an Assistant Professor. He earned his Ph.D. from the Rotterdam School of Management, Erasmas University Rotterdam in 2012 and is currently a Postdoctoral Fellow there and is collaborating with the Port of Rotterdam. His research interests include maritime logistics, transportation and supply chain management.
Dr. David Hala joins MARB an Assistant Professor. Dr. Hala received his PhD from the Institute for the Environment at Brunel University in the UK , his MS from the University of Plymouth in the UK and his BS from the University of Wales in the UK. Dr. Hala's research focuses on reproductive and toxicological effects in fishes caused by environmental changes.
Dr. Elizabeth Nyman joins LIST in the Spring 2016 as an Assistant Professor in Political Science and Coordinator of Maritime Studies (MAST). Dr. Nyman has a Ph.D. in Political Science from Florida State University and a B.A. in International Relations from The College of William and Mary. Dr. Nyman's research focuses on international maritime conflict, piracy, and environmental issues. She is particularly interested in oceanic resources, such as fish or offshore oil and gas, and how those impact state desires to control ocean spaces.
Dr. Lene Petersen joins MARB as an Instructional Assistant Professor. Dr. Petersen has a PhD in Biology from the Oceans Sciences Center, Memorial University, Canada, as well as BS and MS degrees from the Institute of Biology at the University of Southern Denmark. Her research investigates the physiological responses of marine fishes to environmental stimuli.
Dr. David Retchless joins the MARS department in Fall 2015 as a tenure–track Assistant Professor. He is interested in the cartographic communication of sea level rise and other climate hazards. His work draws on research from GIScience, human–environment geography and psychology to consider how map interaction mediates risk perceptions for climate change and related hazards. He received his PhD in Geography (2015) from The Pennsylvania State University. In his dissertation, he explored how exposure to an interactive sea level rise map affected risk perceptions for this hazard in Sarasota, Florida.
---
New Postdoctoral Fellow Joins TAMUG

Dr. Ge Yan has been selected from 13 applicants from around the world to work with Dr. Karl Kaiser in the Marine Science Department as a recipient of the TAMUG Postdoctoral Fellowship Program in Fall 2015.
Dr. Yan conducted his graduate work at Seoul National University under the supervision of Dr. Guebuem Kim. His research has focused on the chemical characterization of atmospheric organic matter and nutrient cycling in coastal ecosystems. At TAMUG, Dr. Yan will conduct research on controls of hypoxia on the Texas shelf, and he will also participate in research
focused on the development of novel biomarkers for vascular plant and microbial sources. His expertise will boost existing biogeochemistry research and will raise TAMUG's national research profile.
---
Faculty Research
During the 2014-2015 academic year, TAMUG's Faculty have done an outstanding job at moving our institution significantly closer to meet the scholarship goals of Texas A&M University. Last year, I reported that TAMUG researchers had been awarded over $4.1M in new research awards from Federal, State, and Private sources for Fiscal Year 2014 (an increase of 24% from the prior year). In FY15, the total for research grants is $17.6M, which amounts to more than a fourfold increase from last year. This extraordinary achievement is due in part to the award of a number of very large grants from GoMRI (totaling ~$9.1M), NSF ($3.6M), and CONACYT ($~1M). Such large awards speak to the preeminence our Faculty have on their field. But in addition, TAMUG researchers received funding from highly competitive Federal programs (NSF, NOAA, DOE) leading to the most successful year of research fundraising in TAMUG's history. Congratulations to our Faculty, graduate students, and research staff, for such an outstanding effort and well deserved success. See a full list of awards on the VPAA website.

An additional measure of research success is the diversity and continued rise in peer-reviewed publications and scholarship productivity from TAMUG Faculty (see updated list on website). Scholarship productivity has increased by ~75% in the last four years, from 120 in 2011, 142 in 2012, 185 in 2013, and 200 in 2014. I encourage you to browse the list of publication and feel amazed by the breadth and depth of our research and scholarship on campus.
Faculty Highlights
Dr. Douglas Klein, MARS was the invited Keynote Speaker at the Computers in Scientific Discovery7 (CSD7), Computational Methods for Carbon Nanostructure Research (July 19-23, 2015), Virginia Commonwealth University, VA, USA and the invited Plenary Speaker at the International Conference on Graph Theory and Applications (August 17-20, 2015), Middle Tennessee State University, TN, USA
Dr. Peter Santschi, MARS was elected as a Fellow of the American Geophysical Union (2014) and was an invited Keynote Speaker at The International Conference on Contaminated Sediments, Environmental Chemistry, Ecotoxicology and Engineering, ContaSed 2015 (March 8-13, 2015), Congressi Stefano Franscini in Monte Verità, Switzerland
Dr. William Merrell, George P. Mitchell '40 Chair in Marine Sciences received the BAHEP's (Bay Area Houston Economic Partnership's) 2015 Quasar Award for Exceptional Leadership in Economic Development
Dr. William Seitz, MARS elected to membership in the International Academy of Mathematical Chemistry
Dr. Melanie Moser, MARS elected as 2015 Vice-chair of the Membership Affairs Committee (MAC) of the American Chemical Society (ACS)
Dr. Ching-Yun Suen, LIST recipient of the 2015 Association of Former Students Distinguished Achievement Awards for Teaching.
Dr. Luke Nyakiti, MARE received the 2014 Japan Society of Applied Physics Outstanding Research Paper Award.
Dr. David Wells, MARB received the Montague-CTE Scholar Award 2015-2016.
Dr. Kyeong Park, MARS was selected as a visiting scientist at Chungnam National University in Korea by the Brain Pool Program of the Korean Research Foundation (KRF) and was invited Keynote Speaker at the Workshop on Environmental and Ecological Modeling in terms of Coastal Environmental Management in Geum River Estuary (April 30, 2015), Myongi University, Korea
Dr. Bernd Würsig, MARB received 2015 Association of Former Students, Distinguished Achievement Award: College Level Teaching Award.